Controlling the Chaos
Day 4- Gather those papers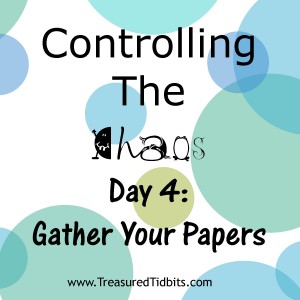 Yep, you read that right.  Today you are simply gathering all your loose papers, magazines, previous calendars (wall and purse), receipts, artwork, etc…  I don't mean the ones from 20, 10 or even 5 years ago.  I mean the ones laying around your house now.  The ones you had every intention of filing, paying, scanning,shredding, or using but never got around to last year.
Gather.every.last.one.
We are going to tame the paper monster this week!  By the end of next week every paper will have a controlled, organized home the minute it comes in your front door.
Immediately toss any items that need trashed, shredded or recycled in the appropriate containers.
(At our house these are a bin in the kitchen for newspapers and empty, labelled shredder bases for the shredding and "other" recycle since I have to take it out of town to handle properly.)
The hard part of today's task is finished, but if you have time you can do the "fun" part.
Begin planning how you want to organize these papers.  Do you need a filing cabinet?  Accordion files?  Coupon/receipt organizers?  A scanner?  Shredder?  Recycle bin?  In basket?  Out basket?  Binders?  What do you have on hand that could be used?
We have a bit of each, and I will be sharing our methods on the blog tomorrow as part of  the "Creating A Control" Plan.  For now, check your home and peruse Pinterest for inspiration on fun, easy, creative ways to corral your current and incoming paper.
How are you doing with the "Controlling the Chaos" program so far?
If you would like to join like minded folks, feel free to visit our "Clutter Overcomers" Facebook page and click "Join" at the top.  I will be happy to add you to our private group; where you can share your story, ask for advice and find encouragement.
If you would like to receive the daily updates for "Controlling the Chaos" through email posts simply sign up below!
To receive regular updates from all posts at Treasured Tidbits you can follow us on Facebook, Instagram, Pinterest and sign up to receive weekly emails- where we share upcoming deals, printables and more.
These options can be found as you scroll the right side of your screen.
Note:  If you are a blogger and following our "Control the Chaos" program or have a similar post to share, feel free to link your post below and on our weekly Sharing Saturday Linky Party/Blog Hop.