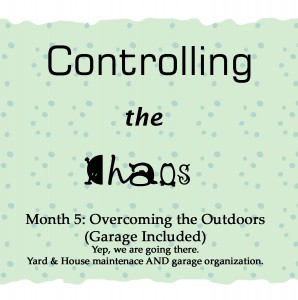 Way to go!   If you have been following along your kitchen is done!  Not only is the "Chaos" controlled you have implemented plans to keep it that way.   It's clean, efficient and should lead to a much less hectic lifestyle (especially with the menu plan in place).
This month we are tackling our flower beds, gardens, garages, driveways and patios.  If you do not have these items feel free to focus on another area in your home.   We chose May to tackle these projects since it is the beginning of summer and temperatures and just beginning to rise.
Let's get started!!!
Day 122:  Monthly Checklist
Day 123:  Weekly Checklist
Day 124:  Clear Flower Bed #1
Day 125:  Clear Flower Bed #2
Day 126:  Clear Flower Bed #3
Day 127:  Clear Flower Bed #4
Day 128:  Decorate Outdoors For Spring/Summer
Day 129:  Catch-up  Celebrate Your Accomplishments
Day 130:  Weekly Checklist
Day 131:  Clean Front Porch:  Clean Door, Change Rug, Light Bulb, Sweep Porch, etc…
Day 132: Clear the Driveway:  Sweep, Straighten, Decorate
Day 133: Clean the Patio/Back Porch:   Sweep, Straighten, Decorate
Day 134:  Plan Your Garden and Flower Beds
Day 135:  Shop for  and Plant Your Garden and Flower Beds
Day 136:  Weekly Checklist
Day 137:  Open your garage and take a good, long look.   Make a list of problems areas and possible solutions (take photos and check Pinterest)
Day 138:  Remove ANY and ALL garbage, recycling, donations, etc… that have accumulated over the winter both inside and out.
TIP:   Many communities offer a "City Dump Day" where they will offer dumpsters to those who live within city limits.   It is a great time to get rid of those unwanted pieces of furniture and other broken items the weekly pick up will not accept.
Day 139:  Begin Purging and Straightening the Garage (wherever you can easily reach and work).   We will be beginning at the center of ours.
Day 140:  Tackle Area #2 of Your Garage
Day 141:  Tackle Area #3
Day 142:  Tackle Area #4
Day 143:  Weekly Checklist
Day 144:  Properly dispose of any chemicals, trash, recycling, etc…
Day 145:  Drop off any donations or consignments.  List or tag any items for sale.
Day 146:  Organize and clean ALL toys and sports equipment
Day 147:  Organize all Tools
Day 148:  Organize Small Items
Day 149:  Organize Remaining Items
Day 150:  Weekly Checklist
Day 151:  Finish Organizing and Label Everything
Day 152:  Catch up the garage, housework, paperwork and laundry
---
---
Please share your success, disasters and personal stories in the comments below.
Have any tips or tricks to share?
We love to to hear from you!
---
Feel free to join us in our private Facebook group.
to share stories, great ideas and receive encouragement from others.
---
For a printable version of this month's calendar click the link below.