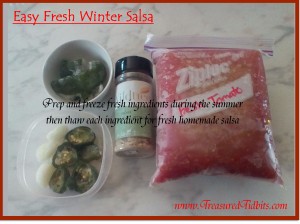 Yesterday I got the brilliant idea to try to use up some of the gallons and gallons of frozen tomatoes and juice we had in our freezer by making easy, fresh, winter salsa.
(Last summer we had a lot going on with one daughter's life changing incident and the other daughter's diet restrictions, so we chose to freeze our veggies individually and attempt to make salsa, chili and spaghetti sauce later……  It is now February of the next year, and we STILL haven't made any of these items.  Today that changed)
Because we are trying to eat fresh and are reducing preservatives, I tried to find on hand ingredients to make the first batch, and it was SO EASY!
Why?
Because we had all the veggies prepped in the freezer and some Wild Tree Fiesta Salsa Mix on hand from a freezer cooking party we attended last year.
---
What did we have prepped?
Green Peppers (sliced for fajitas, but we can dice them quickly and add them to the pan)
Onions (diced and frozen in ice cube trays to the perfect size of a tsp)
Jalapenos (sliced into rings, ready for pizzas, soups or chopping for slices)
Tomatoes (finely chopped, skinned, and frozen in their natural juice)
Hubby just tossed it all in a pan, cooked it up, drained the excess juice and poured it in a jar.
Nope, I didn't end up making it because I was babysitting our stubborn little kitty.
---
What is your favorite salsa recipe?
Do you freezer cook?
We would love to hear your recipes, tips and tricks.
Feel free to comment below, link up on Sharing Saturday or send me an email.
For more great ideas follow us on Pinterest, Facebook, Instagram and sign up for weekly emails to receive exclusive FREE printables, upcoming deals and bonus info and links.