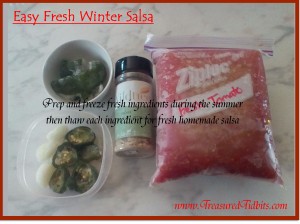 Yesterday I got the brilliant idea to try to use up some of the gallons and gallons of frozen tomatoes and juice we had in our freezer by making easy, fresh, winter salsa.
(Last summer we had a lot going on with one daughter's life changing incident and the other daughter's diet restrictions, so we chose to freeze our veggies individually and attempt to make salsa, chili and spaghetti sauce later……  It is now February of the next year, and we STILL haven't made any of these items.  Today that changed)
Because we are trying to eat fresh and are reducing preservatives, I tried to find on hand ingredients to make the first batch, and it was SO EASY!