Just Make Do
Day 2
Creating a Menu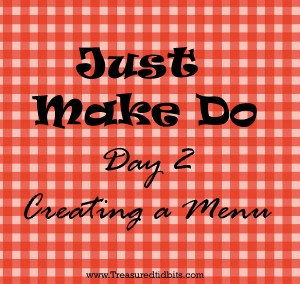 Today we put your inventory list to use by creating a menu.
Never created a menu?   Now is a great time to start.
To be honest the first week should be fairly easy (it may become a wee bit more challenging as we consume the easy to use items in our pantries this week).
You can plan your menu by the week, bi-weekly or even for the entire month.   Because of ever developing allergies and the fact I create 2 separate meal plans I chose to create our menu by the week.   I included breakfast, lunch, a few snacks and dinner.
Tip:  An easy way to handle snacks is to keep a list on the pantry/refrigerator door of available items.  Kids and housemates can check the list and choose appropriately.   It certainly reduces the amount of waste we have each week in our home, especially of fresh fruit and breads.

Just click the link below to view our first week menu.
Just Make Do Day 2 Menu Week 1
(You will find we eat chicken, turkey and eggs quite a bit because of my oldest daughter's food intolerances).