Just Make Do
Day 4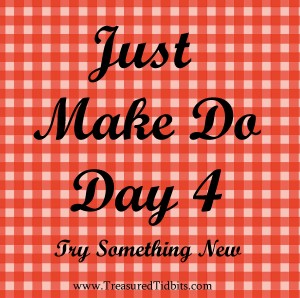 Take the plunge.  Try something new.
Change up your menu and try that "exotic" food you bought six months ago.
Yep, I am talking about that specialty item you have never been able to pronounce and have NO idea what to do with.
Google it.   Dig out granny's recipe books and see if it existed when she made granddad dinner at home every night.
A couple of the "exotic" foods we have on hand is gnocchi and gluten free pasta.  Both of which we have never tried.  I decided since we already have leftover pasta sauce in the fridge, tonight would be the perfect night to "try" these two items.
I purchased this gnocchi at Aldis several months ago but never found the courage to try it.   I purchased both of them thinking they were organic and would be ideal for my daughter who is unable to eat rice or pasta.
To be honest?
The gnocchi went into the trash can and we won't be purchasing anymore.   If we are going to have "mashed potatoes" we will make them from scratch.
The gluten free pasta was actually fairly good.   We will see what my oldest daughter's processing says about it tomorrow.  (She only tried the gnocchi tonight-one food test at a time.)
How are you doing with "Just Making Do"?  Are you remembering to consume your leftovers, plan your meals and use what is in your cabinets and freezer?
Today we managed to consume only leftovers for lunch: chef salad with leftover chicken and a deviled egg for me, leftover enchiladas for daughter B and oatmeal for daughter A.  For snack we ate the cupcakes we made this weekend and for supper we consumed the leftover pasta sauce, salad fixings, shredded cheese from the block we had in the freezer and rolled biscuits that my daughter made into delicious garlic butter rolls.
We also finished up an entire bottle of cooking spray (it's been sitting there "almost" empty for months while everyone always grabbed the full cans), tossed an entire package of fresh garlic that was certainly not fresh and consumed our frozen discount cheese that hubby grated yesterday.
Are you finding success or experiencing a few bumps?
If you are joining us for Just Make Do January we would love to hear your comments below.  If you are a blogger sharing the journey on your blog please be sure to share a link in the comments and join our weekly "Sharing Saturday" Link Up Party to share other links as well.
Would you like to receive daily reminders and encouragement for "Just Make Do January"?  Then sign up below!  
If you would like to receive updates for more than this series be sure to "like" or follow us on Facebook, Pinterest, Instagram or by email/RSS feed.