Just Make Do
Days 6, 7 & 8
Tangible Results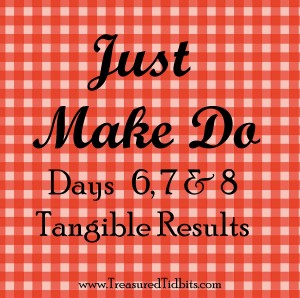 Are you seeing the results of your journey?
I know we are.
We are eating from home and not spending money on drive-thru and restaurant meals.
My cabinets and freezer are definitely showing improvement, becoming easier to organize and visually pleasing.
Even better our "grocery list" is much smaller and of course, much cheaper since we are only buying milk, eggs, bread, fruit, veggies and dairy products.
This week I used that extra money to pay a medical bill I received.  The same day I received it!
Most weeks I would have needed to wait but this week I knew we could do it.   It felt great!  We want to save in 2016 but we also want to keep all our bills paid up.  (We don't use credit cards.)
I am not going to say that making everything from scratch and using only what we have on hand has been easy but it has been healthier and SO worth it.
Tonight:  We made this delicious dish from AllRecipes.com. Normally we would buy pre-shredded hashbrowns and cheese but tonight I shredded fresh potatoes, a block of still frozen sharp cheddar cheese and some ham we had cooked and divvied just to create this recipe.
Note:  I suggest that you thaw frozen cheese a bit BEFORE you try to grate it, especially if you have difficulty with your hands.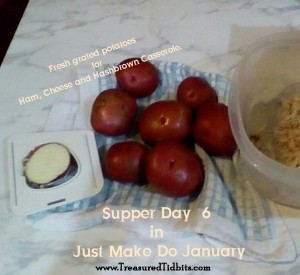 We used cream of chicken soup as a substitute for the potato soup and split the recipe in half since only three of us would be eating it.
Last night we dined on chicken strips with our handmade bread coating.  Freshly sliced American Fries, salad and double chocolate cookies. (I am determined to use up the pre-processed boxed desserts we have so we can begin eating healthy and baking from scratch but my husband and daughter are enjoying the fresh desserts every night in the meantime.)
Tomorrow we will be consuming leftovers since the youngest daughter and I will be returning home late from an out of town neurology appointment.  Besides, what better way to save money than consuming already prepared food?
How did you save this week?
Are you struggling for ideas on how to cook specific items?  ALLRECIPES.com offers you the opportunity to type in what ingredients you have on hand and will provide you with matching recipes.
To follow our progress, find inspiration and cheer us along you can "like" our Facebook page, sign to receive daily email reminders, follow us on instagram (TreasuredTidbits) or Pinterest.   You can become actively involved by joining our "Clutter Overcomers" group where we share our successes, mistakes and offer each other advice in a closed group.