Menu Monday #20
After a crazy week last week that ended with some serious menu adjustments, I am happy to say I believe this week should be fairly smooth sailing despite the virus some of us seem to have.  The jello is already made, menu is set and I am grabbing groceries later today.
I finally began using my Kindle Fire to keep lists on and the results have been AMAZING.  I will share more on why I like it so much soon.
This week isn't expected to be super busy besides pet visits and babysitting, so I planned a few more time consuming meals full of comfort foods.  It isn't quite fall temps but we are beginning to enjoy our fall foods anyway?  How about you?  Are you experiencing the exciting foods of fall?  Look for new recipes?  I know we are and I absolutely LOVE the cream cheese icing recipe we used last week.
Check out our Fall Food Pinterest Board and discover even more from warm, cozy drinks to delicious casseroles and desserts, I know we plan to.  Let us know which ones you enjoyed and which ones to avoid!!!
---
Menu Monday #20
Monday:
Breakfast:  Choice

Lunch:  OUT/Pack
Snack:  Leftovers

Supper:  Grill, Salad, Deviled Eggs & Corn on the Cob
Tuesday
Breakfast:  Choice

Lunch:  Sandwiches/Leftovers
Snack:  Leftovers

Supper:  Roast, Potatoes, Carrots & Bread  We will use the leftovers on Thursday night in beef and noodles.
Wednesday
Breakfast:  Choice

Lunch:  Peanut butter Sandwiches, Mac & Cheese, Cottage Cheese, Apples, Corn on the Cob & Milk   Our babysitting charge will be joining us for lunch so I planned a little more detail.

Snack:  Pumpkin Muffins, Applesauce & Milk
Dinner:  Pasta, Salad & Bread
Thursday
Breakfast:  Choice

Lunch:  Out- We will pack boiled eggs, snack items and grab something from the menu.

Snack:  Pumpkin Bread, Applesauce & Milk
Dinner:  Beef & Noodles, Mashed Potatoes, Corn, Green Beans & Apple Pie
Friday
Breakfast:  Choice

Lunch:  Leftovers
Snack:  Cookies-Homemade
Dinner:  Taco Bar- Hamburger or Chicken
Saturday
Breakfast:  Choice

Lunch:  Lunch Meat
Snack:  Cookies & Fruit

Dinner:  Pizza, Chips, Finger Foods
It's homecoming dance night so our house will be full of teenage girls ALL day and ALL night!  No one will be cooking much but they do like to eat.
Sunday
Breakfast:  Choice

Lunch:  Leftover Tacos

Snack:  Leftover finger foods from Saturday

Dinner:  GRILL- NO FIRE!!!
---
Menu Monday #20 Weekly Shopping Trip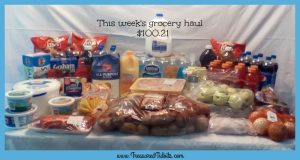 County Market
3 Lays Chips $1.99/each
Hersey Strawberry Syrup $2.38
2.67 lbs. Boneless Chicken Breast-Recipe Ready @ $3.29/lb
3 Jack's Pizza $1.99/each
Kraft Singles$3.19 Less $.75 Coupon from Coupons.com
18 Eggs $1.50
Orange Juice  $3.00
Total: $30.92
---
Save-A-Lot
Eckrich Smoked Turkey $4.99
Prairie Farms Sour Cream $2.29 Less $.40 Coupon from Prairie Farms
Prairie Farms French Onion Dip $2.29 Less $.40 Coupon from Prairie Farms
2 6pk.Pepsi @ $3.49 each less $.50 coupon on each  $2.99
6 pk. Dr. Pepper $3.49 less $.50 coupon $2.99
Boneless Chuck Roast $7.70
16 oz. Frozen Strawberries $2.79
2 Jack's Pizzas $1.99/each
16 oz. Cornstarch $0.99
Flour $1.45
Pot Roast Seasoning $0.50
Honey Grahams $1.69
Grape Juice $2.89
Sunbeam King Sandwich Bread $1.99
Vanilla Ice Cream $4.99
2% Milk $2.99
2.13 lbs. Green Seedless Grapes @ $1.49/lb.  Total: $3.17
Golden Apples $1.99
Russet Potatoes $4.99
Yellow Onions $.89
3lbs. Big Red Delicious $1.99
Total: $67.29
---
Dollar Tree
2 Apple Juice $1.00/each
2 Bags of Pretzels (not shown) $1.00/each
---
This week's shopping trips totaled only $104.25 + $13.98 for hubby's monthly coffee at work.  We will be grabbing a few more loaves of bread, and one gallon of milk for another $6.00, but other than that I expect this to be the sum total of our grocery expenses this week.  Happily, keeping it under our weekly budget of $125.  YAY!!!!  I wasn't quite sure we would make it since I chose to replace some expired baking supplies AND missed the date for some 3 day sales and coupons.  Once I realized my mistake I adjusted our shopping list to accomodate the higher costs.  I bought less meat and chose to skip some higher priced baking items I knew could wait.
How did your menu plan and grocery shopping go this week?
Want to see more menu planning ideas, grocery tips and shopping tricks?  Check out our Pinterest Board here and my kitchen series here.
---
To see more posts like this follow us on Facebook, Instagram, Pinterest and sign up to receive weekly emails- where we share upcoming deals, printables and more.
Save
Save
Save
Save
Save
Save
Save
Save
Save
Save
Save
Save
Save
Save
Save
Save
Save
Save
Save
Save