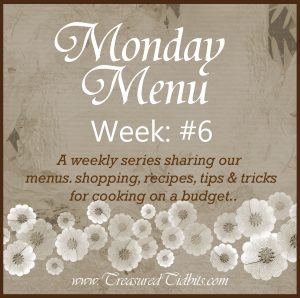 This week's menu is nothing exciting and almost all easy meals due to the fact I am struggling with some additional physical issues and trying to plan accordingly so that I can take care of my family but not use all my energy on cooking or cleaning up (which my husband definitely does more than his share of dishwasher loading and emptying, bless his heart.)
We are also having fun with a birthday and princess theme this week BUT I did not pre-plan our snacks because I want our babysitting girl to help choose some items.  I know we will be playing pin the crown on the princess, building a castle and other great princess projects which you can catch photos of on our Instagram account @ #treasuredtidbits.
I am sure you will notice below that the days we do not babysit we do not have a snack listed this is due to the fact we don't necessarily eat a "family" snack on those days.  We try run our errands, schedule appointments and visit friends during that time.
Sunday:
   Breakfast:  Pancakes
   Lunch:  Sandwiches & Chips
   Supper:  Leftovers
Monday:
   Breakfast:  Oatmeal with fruit and cinnamon (for those who got up in time)
   Lunch:  OYO
   Supper:  Pizza (I cannot cook tonight so we are going a easy as it gets.  Those who cant have pizza will have chicken in a salad.)
Tuesday:
   Breakfast:  Smoothies
   Lunch:  Daughter's Choice
   Snack:  Birthday cookies (daughter's choice since she cannot swallow cake…we adapt!)
   Supper:  Daughter's choice.  It is her 16th birthday!  I have appointments all day and she struggling with her health so she can choose to eat out or save it for another day.
Wednesday:
   Breakfast:  Bacon, Eggs, Toast, Milk & Orange Juice
   Lunch:  Mac & Cheese, Hot Dogs, Cottage Cheese, Carrots (Salad with boiled eggs and chicken for those who cannot eat the main dishes)
   Snack:  Princess Sugar Cookies (we will make them)
   Supper:  Pasta, Salad, Cottage Cheese, Milk & Garlic Bread
Thursday:
   Breakfast:  Cereal, Fruit & Juice
   Lunch:  Pasta, Salad, Cottage Cheese, Milk & Garlic Bread
   Snack:  Peanut Butter, Apples, Marshmallows and Milk
   Supper:  Bacon Wrapped Chicken and Swiss (one daughter will have plain chicken), Green Beans, Baked Potatoes & Corn
Friday:
   Breakfast:  Bacon, Eggs, Toast, Juice & Milk
   Lunch:  Sandwiches, Chips, Dip, Apples, Salad & Milk
   Snack:  Cookies & Milk
   Supper:  Taco Bar
Saturday:
ALL of it is OYO for family as I will be at a vendor event but below I share the snacks I will be taking for myself and why.

Sunday:
   Breakfast:  Pancakes (hubby makes these)
   Lunch:  Leftovers
   Supper:  Grilled Chicken Breast, Corn on the Cob, Deviled Eggs, Pasta Salad or Mac & Cheese Bake
---
Due to my food intolerances, heat intolerances, pain and physical struggles PLUS the fact I like to save money, I try to take my food and drinks whenever we travel and it almost always consists of the following items +/- depending on the season.
Boiled or deviled eggs
Cherry or grape tomatoes (helps with hydration)
Green grapes (helps with hydration)
Sliced cheese (protein, dairy)
Salt (mini shaker from Tupperware)
Chips
OJ
Water
Soda
If you notice all the items above can be eaten with your fingers and quickly wiped off with a baby wipe if a customer appears.  I do not have to worry about it getting cold or tipped of a plate.  I just grab it from one of our stackable Rubbermaid containers and snack away a little at a time.  It reduces the time I am away from my booth, encourages me to eat healthy and it is easy to transport in two small coolers (one for drinks and one for food).
---
What do you do for traveling or events?
How do you meal plan to save money?
Please share below.