I haven't been sharing any shopping deals lately but when I found these deals today I wanted to share.
I didn't use a single coupon!
I knew I would run into our local Aldi's while my daughter had an MRI but I had not anticipated stopping in at Kroger but I am so glad we did.
Here are the great deals I picked up there.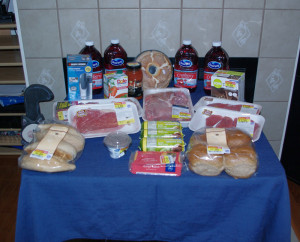 KROGER
Sale Items:
Angel Food Cake  $2.99  Reg.3.99
4 Cranberry Juice  Buy 4 Save $2.00  Final Cost :$1.50 each
Markdowns:
We love there marked down bakery items.
Rolls  Reg. 1.99  Cost:.69
3 Rolls 92% Meat ORGANIC Hamburger (16 oz)  Reg: 5.29/roll   Cost: $2.99/roll
Personal Coffee Grinder  Reg. $19.99   Cost: $4.99
Dole Garden Soup  Reg.:  $2.99  Cost: $1.49
Dove Yogurt  Regular: .89  Cost:  .49
Marinara Sauce  Reg.:  $2.99  Cost $1.49
16 oz. Sharp Cheddar  Reg.:  $4.29  Cost:  $2.99
2 Zone Bar Double Chocolate  Reg.: 2.99/box  Cost: $1.49/box
Chuck Steak  Reg.:  $4.77  Cost: $2.39
Beef Steak  Reg.:  $7.73  Cost: $4.63
Beef Steak  Reg.: $5.51  Cost:$3.30
Pork Chops Reg.:  $18.27  Cost:$8.93
Stew Beef  Reg. :  $18.39  Cost:  $11.78
Total:  Regular $124.70   Cost:  $66.60 (Inc. $1.46 Tax)
ALDIS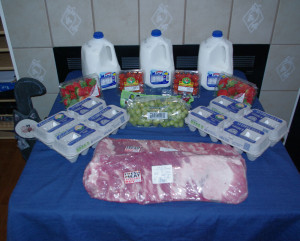 The price of milk and eggs is why I drove to the store, the 1/2 price ribs was the topping in the cake.
3 Milk $1.29/gal.
Yes, it is real milk and is that price regularly!
4 Eggs .59/dozen
2 Organic Grape Tomatoes $1.99/each
2 Strawberries $1.49/each
Bag Of Green Grapes $3.99
St Louis Spareribs Originally $12.99 and $12.52 each   My cost today: $6.50 and $6.26 (YAY!)
Guess what we had for supper?
Ribs!
With the great chicken deals we got at the one day sale a few weeks ago we are definitely set on meat for quite awhile.
What was your great buy this week?
Save
Save