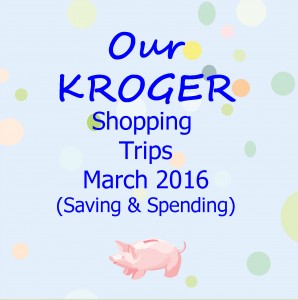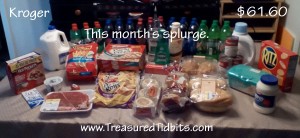 Buy 5 Save 5
Dr. Pepper  Originally $4.99  Sale Price $2.99  B5S5 Final Price $1.99
Mountain Dew  Originally $4.99  Sale Price $2.99  B5S5 Final Price $1.99
Pepsi  Originally $4.99  Sale Price $2.99  B5S5 Price $1.99  Less Kroger Digital Coupon Save $1.00/2  Final Price $1.49
7up  Originally $4.99  Sale Price $2.99 B5S5  Final Price $1.99
French Fries/Hashbrowns  Original $2.99  B5S5 Final Price $1.99
Tide Laundry Detergent  Original Price $7.99  Sale Price $5.99 B5S5 Price $4.99  Less Kroger Digital Coupon $2.00  Final Price $3.99
Ritz Crackers  Original Price $2.77  B5S5 Final Price $1.77
Kraft Mayo  Original Price $4.79  Sale Price $3.49  B5S5 Price $2.49
Sale Items
Campbell's Soup  Regular Price $1.99  Sale Price 4/$5.00  Less $.40 coupon  Final Price $.90 each
Totino's Pizza  Sale Price 4/$5.00  Less $1.00cpn on 4  Final Price $1.00 each
Bakery Croissants  Original $2.19  Sale Price $.99
Thomas Bagels  Original Price $3.99  Sale Price $1.99
Thomas English Muffins  Original Price $3.49  Sale Price $1.74
Kroger Milk  Original Price $2.29  Final Price $1.89
Tostinos Pizza Rolls  Original $3.39  Sale Price 2/$6.00  Less Kroger Digital Coupon of $1.00/2  Final Price $2.50 Each
Special Cocoa $.59/each
CLEARANCE
Hot Pockets  $9.99  Clearance Price $4.99
Bakery Rolls  Originally $2.19  Clearance Price $.99
Chuck Roast  Original Price $9.82  Clearance Price $6.54  Less Kroger Digital Coupon $1.00  Final Price $5.54
Bakery Croissants  Original Price $2.19  Sale Price $.99
Pampers Baby Wipes  Original Price $3.29  Clearance Price $1.29
Listerine Mouthwash  Original Price $6.29  Clearance Price$2.29
Crest Mouthwash  Original Price $3.49  Clearance Price $.99
Colgate Toothpaste  Orginal Price $2.29  Clearance Price $.75
Kroger Creamer  Original Price $3.49  Clearance Price $1.29
FREE ITEMS
Kroger Yogurt $.89  Final Price FREE
Moon Chocolate Bar $3.49  Final Price FREE
Lindt Chocolate Egg $.99  Final Price FREE
Cost:  $59.70
Tax:  $1.70
Total Cost:  $61.60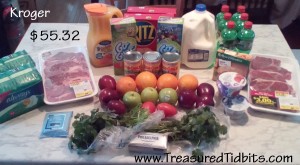 Buy 5 Save 5
2 Ritz Crackers  Originally $2.77  Sale Price $.177
Philadelphia Cream Cheese  Originally $2.59  Sale Price $1.59 (I normally wait to purchase these for less but for tonight's supper I needed an entire block.)
2 Always Pads (42 ct)  Originally $6.99  Sale Price $6.49  B5S5 Price $5.49  Less Coupon of $1.50 on 2  Final Price $4.74/each
7up  Originally priced $4.99  Sale Price $2.99  B5S5 Price $1.99
NON-Clearance
Kroger Milk  Originally $2.29  Sale Price $1.89
4.58 Lbs of Fresh Steak  Original Sale Price $27.49  Our Final Cost $16.95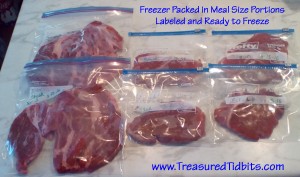 Cilantro 2 Bunches for $1.00 
Gogurt  Originally Priced $2.99/each  Sale Price 2/$5.00  Kroger Digital Coupon for $1.00 off 2 and $.75 off from Yoplait  Final Price $1.63 Each (Plus turned in on Ibotta for an additional $1.00 rebate on 2)
Lunchbox Apples 3/$.99
.54lb of Tomatoes @ $.99/lb
Oranges 2/$1.00
Red Gold Tomatoes w/Green Chiles  $.99/each less Kroger mailed coupon for $.60 off 3  For a final price of $.79/each
Kroger Greek Yogurt  Originally $.89/each  Sale Price $.80/each  Less $.75 coupon on 3  Final Price $.65/each
Clearance
89 oz Tropicana OJ  Clearance Priced $3.29
Neutrogena Makeover Remover Squares  Originally $1.99  Clearance Price $.25
FREE ITEMS
Marie Callendar Pot Pie $1.68  Final Price FREE
Tax $1.57
Total Spent: $55.32
Total Saved:  $27.97 Plus tax
---
To learn more about how we save at Kroger and it's subsidiaries click here.
Please join us on Facebook, Twitter, Pinterest and more or Sign up for emails to never miss a post.
Remember sharing is caring.
Thanks for stopping by we hope we were able to brighten your day in some simple way.