Are your refrigerator and freezer organized?
Do you want them to be organized? 
I know I do.  I also know that refrigerator/freezer organization is something our house struggles with every.single.day.  If it isn't bad enough, that no two bottles can be the same size, they have to be varying shapes too.  Factor in various leftovers, fruit and veggies, food intolerances and allergies and your refrigerator/freezer can begin to look like a war zone.
Hopefully, some of these refrigerator freezer organization tools, tips and hacks will help you (and me) do just that.
---
5 Refrigerator Freezer Organization Tips
1. Use a meal plan.  This will reduce the amount of 1/2 used bottles, produce and leftovers in your fridge.  Plan your menu around these items to use them up, save money and reduce waste.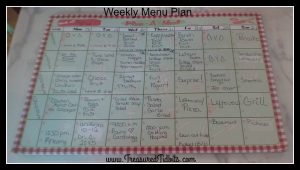 2.  Before shopping each week, take an inventory of your refrigerator, freezer and cabinets.  If your spaces are organized and grouped together, it takes only a few minutes to check your shopping list against what you already have on hand.  Do you really want or need that 6th bottle of soy sauce when you haven't consumed the last 5?
3.  Group like items together.  We recently began employing this action in our fridge, freezer and cabinets, and it has made an enormous difference.  I can see, in a glance, if we are getting low on chicken, beef, pasta, yogurt, etc… or if we are getting overwhelmed and should be working those items into our weekly menu.
4.  Decide how many of an item neatly fit in a designated space.  If you are like me and appreciate a great deal, this step can be really, really hard BUT it can be done.  I have discovered we reduced our grocery bill by more than $50 a month by implementing this step because I am not overbuying and we are not wasting.
5.   Examine your empty fridge and decide what should conveniently go where.  Not what has always been there, but what works for you and your home.  The Greatist has some great suggestions for what last the longest in which location.  It can be found here.
---
14 Refrigerator Freezer Organization Tools/Hacks
Turn condiment bottles upside down in egg cartons to support and organize, while getting out the very last drop.  Use this method for shampoo and cleaning bottles as well, to ensure you get every last drop.  Photo from youtube.com via Alton Brown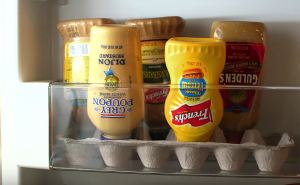 Use labeled baskets to organize both refrigerator and freezer items.  You can find them at any department store in any size, strength, color and price.
Try these mini drawers for corralling small items that tend to float around your shelves or larger drawers.  I hope to order some for myself this coming spring for the kitchen makeover/update.  They look perfect for yogurt, snack bars,eggs, etc…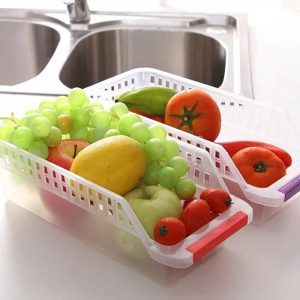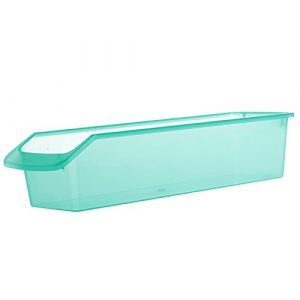 Use

labeled

baskets to keep like items together.  Labels encourage your kids, spouse and roommates stay on track.  Labels can be tied on, taped on, written in marker or even plastic name tags.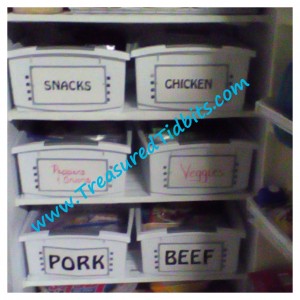 Hang bags from wire shelves using binder clips.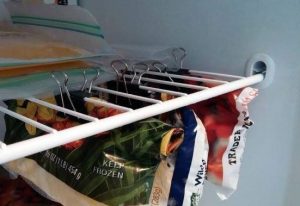 Label everything in your freezer and fridge!!!  We use these cool Pampered Chef labels that I scored in their clearance section one month, but masking or washi tape works just as well.  Find some beautiful FREE printable labels at Clean & Scentsible here.
Remove singles from larger boxes.  Place in freezer bags or seal the plastic with a twix-it clip and LABEL with a permanent marker.  We keep our single serve items in a basket together and encourage the kids and hubby to grab them when they are home alone and need a quick lunch or snack.
Invest in stackable matching containers.  I realize this may seem a little expensive at first, but it has multiple benefits including stacking better in your cabinets and fridge.  I have been purchasing a box of Rubbermaid Easy Find Lid sets every Black Friday for the past three years and the reduction of stress and "plastic container" battles has been amazing.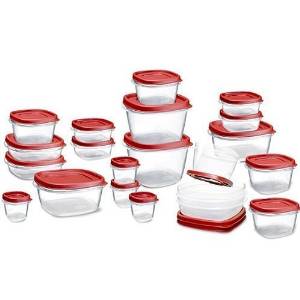 Use a lazy susan to make often used items accessible.
Use a can organizer to keep soda cans organized.  I thought this little gadget would be great for all you soda drinkers.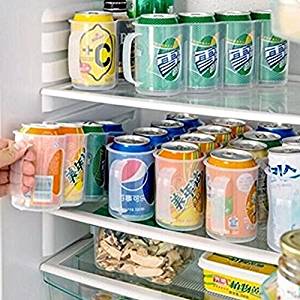 Don't have space for a full width shelf?  Add a stackable shelf to double your space without stacking items directly on top of one another.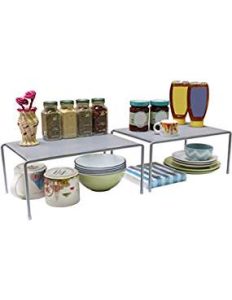 This is not necessarily helpful for organizing, but it certainly adds some color and helps keep things cleaner.  I want to try them during the kitchen makeover, too. Refrigerator Shelf Liners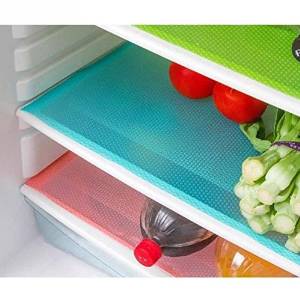 For additional refrigerator freezer organization ideas follow our Refrigerator and Freezer Organizing Board on Pinterest and don't forget to sign up for our 30 Day Organizing Challenge found here.
Save
Save
Save
Save
Save
Save
Save
Save
Save
Save
Save
Save
Save
Save
Save
Save
Save
Save
Save