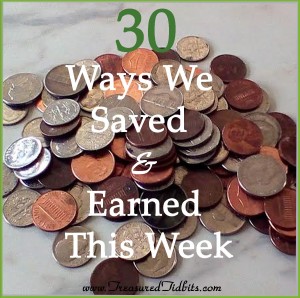 This week we share all the ways we saved and earned, including tools and links for items we used or substituted.
Saved
Signed up for our local utility company's new discount program.  We earn credits to apply to our bill when we reduce our energy use during peak use times.  We just signed up, so I am unsure how much this will actually save us.
Used coupons printed from Curly's and Prairie Farms.
Cut, sorted and used coupons from the Sunday papers that were passed on from family and friends.
Changed our furnace filter.  It is cheaper to replace our filter once a month than to deal with allergy issues.
Transferred our Shout Advanced Stain Remover from the tube (which I dislike using) to the spray bottle.  It was actually very simple, and saved me from buying a new spray bottle or making my own spray this month.
Avoided eating out -both on our way to visit relatives and on the return trip.
Set a limit of $10 to spend on the kids for Valentines Day and stuck to it.  The girls wanted Starbucks and it came to $9.82.  It was their Valentine's Gift.
Used selective reasoning and referred to the budget to choose which coupons to use from the County Market Penny Pincher we receive in the mail.
Used our Amazon Prime subscription to receive FREE SHIPPING on items my husband wanted and could not find in local stores.
Took our time and enjoyed sorting through old jewelry we had inherited long ago with my mom, sis and kids.  I found two beautiful necklaces and a lovely ring I can wear to replace my missing wedding ring.  NOTE:  I am extremely picky and have reactions to jewelry, so I am very limited on which I can wear, use or even like for myself.  These three pieces were a true blessing, and even more of a blessing because they belonged to someone we loved.
Filed our own taxes through H & R Block online for only $24.99.

Filed our State Taxes online for FREE.
Had the contractor come in and measure our floors in order to purchase exactly what we need to replace them AND know what the damage will be to our wallets.  Ruling out any surprises.
Transferred extra cash from checking to savings.  It is harder to spend when it is already in another account.
Adjusted the budget to cover two unexpected expenses so we wouldn't dip into our spare cash or change.
Ran errands in order, in town, to avoid wasting gas, time and most importantly my own energy.
Opened an account specifically for our new business, so there can be no confusion about the amount of money earned and spent each week, month, or even year.
Comparison shopped for Heartworm medicine before ordering since our doggy ran out.
Treated our cats with flea prevention because it is easier than treating them for fleas and worms once infested.
Cleaned out the dishwasher drain and spinners– It is free to do, and ensures the water flows freely and gets our dishes clean.  Saving us time, money and energy by not needing to wash or soak them.
Cleaned our household drains with this tool.  It is a one time $3.00 investment (unless you lose it), and allows you to keep the hair and gunk in your drains under control.  We use ours once a month.
---
Earned
Picked up our credit, in cash, from our favorite consignment shop Back on the Rack Upscale Resale.
Earned credit from Checkout 51 by scanning tomatoes on our grocery receipt.
Fed receipts to our Receipt Hog.
Used the same online programs to earn points, gift cards and cash, as listed in last week's post.  Found here.
Took additional items to the local consignment shop
Began contacting people to attend our launch party for our new job with Clever Container and received orders.
Added links to old posts to receive commission on Amazon links.  This does not affect my readers at all ,but does help offset some of the costs of running a blog (I hope).
---
This post contains affiliate links.  For details on this, please check out our disclosure page here.
Find this post to be useful?  Please share it, pin it, tweet it or email it to a friend.
Want to see more like this?  Leave us an encouraging word in the comments.  Follow us on Facebook, Pinterest, Instagram or sign up for weekly emails and receive exclusive FREE printables, upcoming deals and bonus links.
---
This post is linked up at a variety of link ups.
For an extensive list of the link ups we enjoy and link to click here.
Save
Save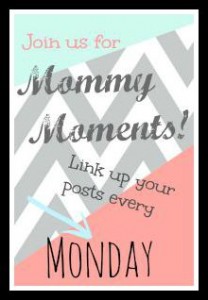 Save
Save
Save
Save
Save
Save
Save
Save
Save