Simple Spring/St. Patrick's Day Flower Arrangement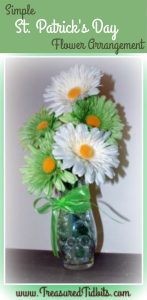 Simple Spring/St. Patrick's Day Flower Arrangement How-To
Supplies Needed:
5 long stemmed flowers  (These were purchased at Michael's for $.99 each.  They have very strong, very long stems.)
Wire cutters to trim stems if necessary
 Vase or bowl  (I used one we had laying around)
 Green ribbon long enough to tie around your vase or bowl
Bag of colored glass beads  (We use these for EVERYTHING!!!)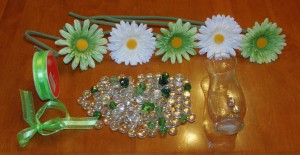 Step 1
Add a small amount of glass beads to the base of the vase.  We used a mix of clear and green to keep is simple.

Step 2
Work with the flower stems.  Bending and inserting them into the vase or bowl at varying heights until satisfied with the arrangement.  (I like to reuse my flowers in other arrangements so I chose not to trim the stems as closely as I would have normally, however you may choose to do so to make them easier to work with.)  I wanted to achieve a taller look so I chose to create a pyramid shape.  I could do this without being concerned with how the back side looks because it will be placed against a wall.  
Step 3
After the stems are situated the way you would like simply add the remaining beads, adjusting the stems as you go to create stability and to hide the stems within the beads.
Step 4
Wrap a ribbon around the vase, cut it to the proper length, then tie with a bow.  Trim any excess.
TADA!  You DID it!
You have a bouquet you can use for BOTH
St. Patrick's Day

and

Spring.

I did not glue the bow or create anything permanent as I like to minimize clutter and strive to reuse my decor and supplies for various holidays and celebrations.
---
To find other amazingly simple and budget friendly St. Patrick Day ideas to MATCH this Simple/Spring St. Patrick Day Flower Arrangement click on the following.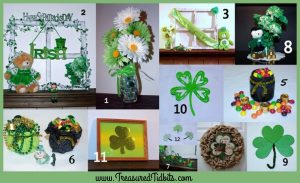 "Kiss Me" St. Patrick's Day Mantel With Window Frame
St. Patrick's Leprechaun Treasure Bowl
Quick Shamrock's From Paper Punch Hearts
Simple St. Pat's Scrapbook Layout
Inexpensive St. Patrick's Day Decor & Party Favors
For more great ideas and simple projects follow us on Facebook, Instagram and Pinterest.
Save
Save
Save
Save