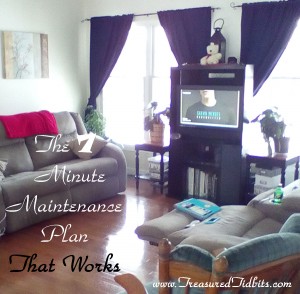 A few weeks ago, I shared how a 3-layer chocolate cake changed my view on life and "clutter".  I wasn't sure that I should be so open and honest in a post about my home, family and shortcomings, but it was a hit with the people who needed it.  Over 50% of those who read it, went on to share it and many contacted me to let me know just how much it struck a chord with them.
That is what I pray for when I create a blog post, not to go viral, but to inspire others to be uplifted or aided by my post.  (Not that I would mind going viral.)
Today I want to share how I have been maintaining the house now that it has been "de-cluttered" and is much, much easier to maintain.
I call it "zoning" or "maintenance" rather than cleaning.
It just makes it sound so much easier and less stressful.
Don't you think?
---
I spend quite a bit of time sitting at my computer because I am a Clever Container Consultant, own and run two blogs (Treasured Tidbits and The Zippy Zebra), belong to and run multiple online support groups, and research the rare diseases my daughter has.  I have to make time each day to maintain my house, thaw supper, make meals, etc…
And because I am home all day with my two girls, we are consistently needing to "maintain".  I got tired of hearing my girls tell people "we are "cleaning" again".  It made it sound like it was child labor when all they were doing was maintaining their everyday messes: dishes, clutter, laundry, trash, etc… so I set aside a specific time each day to "maintain" our home.
We dubbed it the:
7 Minute Maintenance Plan
Why seven minutes?  Because one day I had a surprise call and needed to "zone" the house in a very limited amount of time.  The guests needed to see every single room and the closets upstairs in order to do their job properly, so just "zoning" the main rooms was not going to work.  The mathematician in me did the math and decided I could spend 7 minutes per room and make a huge dent with a few minutes left over to sweep the floors.
Thus the 7 minute maintenance plan was born and has been used EVERY, SINGLE, DAY with great success.
The 7 Minute Maintenance Plan is simple.
You set a timer for 7 Minutes and devote that ENTIRE 7 minutes to zoning ONE room.
"Zoning" includes everything from making beds, emptying trash, picking up laundry, straightening surfaces, wiping down counters to removing clutter and rearranging shelves.
When that 7 minutes is finished you check on the kids, switch the laundry, or grab a drink.  Then you set another timer and work on another room.
Until EVERY room has been worked in and you have "zoned" your entire home.
I, personally, set my timer and work between online projects in order to feed my ADD and keep my OCD under control.  It helps me stay focused and not be overwhelmed by the amount of things I see that need to be done.
If you have a 5 Room house, this will only take 35 minutes out of your day and make everyday life much simpler.  If you can't take 7 minutes at a time, take five or even three, but do something so that each day you are maintaining your house and home.
---
If you find this post to be helpful, please let us know by sharing it and commenting below.
If you are a blogger and use this method, please feel free to link up or share your results or any other great de-cluttering/organizing posts you have on our Sharing Saturday Linky Party/Blog Hop.
To see more posts like this follow us on Facebook, Instagram, Pinterest and sign up to receive weekly emails- where we share upcoming deals, printables and more.