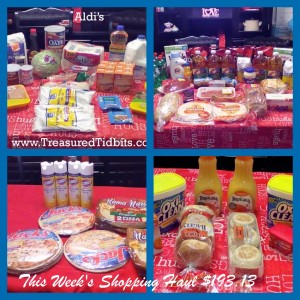 This Week's Shopping Haul $193.13
Restocking for the month
As many of you know from my Facebook share this previous Wednesday I was a bit concerned with my grocery list versus my grocery budget for the month.  The Just Make Do January Challenge was a huge success and great for January's budget and cleaning out the pantry and freezer but now it is time to replace all the staples we ran out of.
When we left the house Wednesday afternoon I had an allotted $300.00 in my grocery budget and a list (with estimated prices for non-sale items) totaling $357.00 +.  I did budget an additional $100 from our second paycheck of the month but that is replace the perishable items used and grab any meat sales we might run into.  Please note that the $300 grocery budget does not include items such as detergent, napkins and tissues but you will see them in the photos and totals below.
Many of you asked how the trip went and I promised to share.  I apologize for the wait but it is finally here.  We did not complete our shopping for the month but I did purchase everything I could at the stores we visited.
Note:  We spent the evening before perusing ads, uploading online coupons, gathering our paper coupons and checking store coupons as well as making detailed lists by store and category to ensure we found the best deals we could get.
We visited three of our favorite out of town stores and will be visiting our in town store this week to finish off the monthly shopping and grab the current sale items.
---
Kroger
$74.55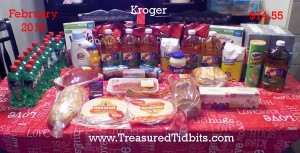 (6) Boxes of Kleenexes .99/each less two printed .50 coupons from = $5.42 including tax
(3) 6 Pack 7up @3 for $10.00
(2) Herbal Tea On Sale @ 2/$5.00
2 Pack Philly Cream Cheese $2.99
Buy 6 Save $3.00 Items  This means an additional $.50 off each sale price listed.
Kellogg's Cereal $1.99 each – (2)$1.00/box coupons I purchased with points from Kelloggs Family Rewards.   Final Price $.49/each
Domino Sugar $1.99 each -Less .$75/2 Printed Coupon  Final Price $1.62 each
Tide Laundry Detergent $5.39 – Less $2.00 Digital Coupon Final Price $3.39
Pringles $1.49-Final Price $.99
5 Doritos $2.49 – Final Price $1.99 Each
Kraft Mayo $3.49  – Final Price $2.99
10 For $10 Sale
2 Tortillas, 2 Pillsbury Biscuits, 6 Apple Juice
Clearance Items
French Bread $.99
Buns $.99
Bread $.79
(2) Dark Chocolate Cadbury Candy Bars $.50/each
4 lb Beef Roast $11.98 (reduced price)
Round Steak $4.86 (mark down price)
LESS $3.00 Mailed Customer Bonus Meat Coupon
Free Item From Free Friday Digital Download
Bottle of Sunny D
Total with $1.90 Tax  $74.55
---
Aldi's
$56.31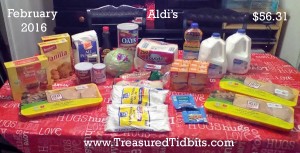 12.91 lbs @ $1.49/lb of Hormone Free Boneless, Skinless, Chicken Breast for a total of $19.21  (We took this home and sliced each breast in half then divided into meal size freezer bags).
Flour-$1.99,
3 lbs Rice-$1.49
(2) Gallons of Milk $1.99 Each
10 lb Bag of Potatoes (Not Pictured) $2.99
250 ct Napkins $1.49
(2) Boxes of Vanilla Wafers-$1.49 each
Old Fashioned Cooking Oats-$2.39
Baking Cocoa-$2.19
Box of Tea Bags- $1.89 (We are going to try Aldi's brand)
4 Boxes of Baking Soda- $.49 each
Vegetable Oil -$1.79
Pancake Syrup-$1.59
Baking Powder-$.99
Lettuce-$1.39
Pure Vanilla-$2.19
2 Salad Dressing Mix-$.49
2 lb bag of Carrots-$1.19
2 Bags of Powdered Sugar-$1.29 each
Pkg of Roma Tomatoes-$.99
Tax-$.66
Total-$56.31
Note:  I still have a large list of staples to buy but either could not locate them at Aldi's or prefer another brand.  We had intended to purchase more fruits and vegetables but the selection was a bit decrepit looking that day and we chose to wait.
The chicken was not on my original Aldi's shopping list but the price was great so we added it.
---
Target
$33.03 and $5.00 Gift Card for future purchase.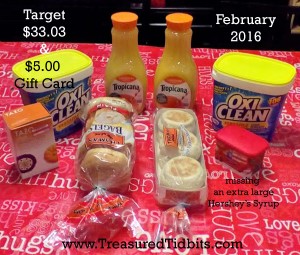 Thomas Bagels $2.24 with Cartwheel
Thomas English Muffins $2.24 each with Cartwheel
XL Bottle Hershey's Syrup (missing from photo) $4.49
2 Tropicana OJ-on sale @ 2/$6.00 less one $1.00 Target coupon on 2 and 2 $1.00/1 printed coupons-Final Price $1.50 each
Oxiclean $8.00 each -Buy Two Receive a $5.00 Target Giftcard for a future purchase
Clearance
Flavored Coffee $3.17
Flavored Tea $2.24
Less $1.42 for using our Target Redcard
Plus $1.07 tax
Total: $33.03
NOTE:  I know many bloggers go ahead and subtract the gift card from the amount spent today but I don't feel that allows me to accurately keep tabs on my cash budget so I do not list it or plan it that way.  I will save the gift card for a month we are trying to spend zero from our budget or for an extra purchase such as clothes, gifts or home items we need to replace.
After we returned home from our shopping expedition my daughter damaged her ankle and the swelling and pain are pretty intense so we needed to travel out of town for x-rays and while we were there I ran back into Kroger to check on their reduced meat.  (I didn't stay long because it took me two seconds to remember why I don't shop on Fridays.  LOl)
None of these items were on my original shopping list but I did purchase them and wanted to be open with you.
---
Kroger #2
$29.24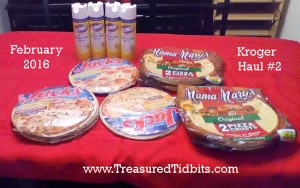 5 Jacks Pizzas $1.88 each (Sale)
4 Mama Mary's 2 pack pizza crusts $1.69/pkg (Clearance)
Clorox Citrus Spray $2.99 each on clearance  (Due to our intolerance for most scents I purchase Lysol and Clorox disinfectant when I can find it in a lemon or orange scent and on clearance).
Tax $1.12
Total $29.24
---
In total we spent:
$150.79 on groceries and $42.34 on supplies leaving me with $149.21 + $100 from the next paycheck for the remaining month.
For more please follow us on Facebook, Pinterest, Twitter or sign up for weekly emails.