Zero Budget DIY Jewelry Organizer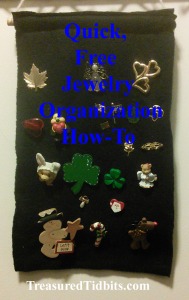 If you are like me you have been able to find inexpensive organizers for your earrings, necklaces, rings and bracelets but pins and brooches are another story.
After chasing our pins and brooches in and out of various drawers, boxes, etc… or searching for 20 minutes every time I wanted wear one I created this jewelry organizer.
We created it several years ago when my frustration was high and money was so tight at our house it squeaked.
I wandered around the house looking for supplies and stumbled across some felt and a dowel rod.  I thought "Why not?" and tried it.
Confession:  It wasn't until a few weeks later that I actually secured it with stitches instead of safety pins and strung it up properly.
That was three years ago and I haven't had to search for a brooch or lapel since.
Supplies:
Two sheets of felt or thicker material in the size you would like to use.
One 1/4 inch or larger dowel rod.
Drill for drilling holes in the dowel.
Yarn or ribbon for hanging.
Fabric Glue or Sewing Machine and Thread
Instructions:
Trim felt or alternative material to desired size.
Mark and drill holes into dowel ends.
Sew material 1/4 inch from top.
Straight stitch 3/4 inch from top.
Insert dowel into opening.
Tie yarn or ribbon on each end of dowel.
You did it!  And it less time than and $ than it took to run to the store.

---
It is perfect for earrings and tie tacks as well.
You now have a quick, easy, free jewelry organizer you can hang almost anywhere including behind a door, inside a closet or even on a closet rod.
For more organization ideas join our Pinterest Page (located in upper right corner of this page) and follow along.