25 Simple Ways We Saved This Week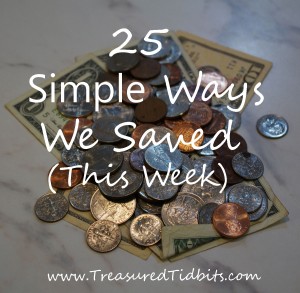 1.)  We stayed home.
Yep, very simple.  We did not participate in shopping online or in store the day after Christmas
2.)  We created a paycheck by paycheck budget for 2016, beginning with the check we received on Christmas (we get paid bi-weekly).  My wonderful hubby even created a spreadsheet to update as I change the numbers when bill amounts fluctuate.  (Saving me a huge amount of time doing math each month.)
3.)  We were blessed with perishable groceries from an unusual source.
We have a family friend leaving for a short family visit and they asked if we wanted to consume their perishables while they were gone.  Of course!  A gallon of milk, some fresh, crisp apples and other assorted items means we saved at least $10 we would otherwise have spent on perishables this week.
4.)  We joined and uploaded receipts to Receipt Hog.
We earned 280 coins by uploading this week's receipts (for any store), filling in our information, playing a free "pull" and confirming our email.  If you would like to earn free money that can be cashed in for PayPal or Amazon Gift Cards, I suggest you sign up too.  If you use this code SKAN9388 when you sign up, we will both receive a free "spin".  ( My first spin earned me 14 coins towards those gift cards).  I figure I already spent the money at the store, a few extra minutes to upload the receipt is worth the gift cards at the end of the year.
5.)  We joined and used SNAP by Groupon for the first time. 
We didn't earn a huge amount today because we only received credit for a milk purchase, but I am sure the savings will add up.  (The only drawback I could see with the SNAP account was that the items we recently purchased needed to be processed in 2 days, and I am used to having 5-7.) 
Note:  If you choose to sign up using the link I listed, I will receive a $1.00 credit the first time you use the app.
6.)  We added to our IBOTTA account.
This is an account we have had forever, and I have already cashed in once.  It is another "scan your receipt" account for specific stores.  IBOTTA offers you rebates on groceries, pet supplies, alcohol, clothes, entertainment, home furnishings and more.  I simply do my regularly planned shopping and return home, check the items (by store) available for rebates and then upload my barcodes and receipts.  (Yes, these rebates stack ON TOP of the coupons we use in the store.)
Note:  If you choose to sign up using the IBOTTA link I listed, share this referral code:

bnbccg 

AND redeem at least one rebate in the first two weeks and we will both receive $5 credits to our account.  (I call that a win-win.)

7.)  We uploaded our Kroger receipt to SavingsStar and earned $5.00 for the purchase of $20 in potato chips over a one month period.  (Yes, I made a point to purchase and scan the final bags before the cut off date.  This is one site I monitor weekly to follow the larger rebates.)
NOTE:  I do not receive any credit or points for this referral; I simply want to share all the ways you can save too.

8.)  We uploaded a Walmart receipt to SavingsCatcher and received a $1.31 in credit towards a Walmart gift card.  (I wasn't expecting any credit since there were only two items on the receipt, but I decided to scan it anyway.  I was very glad I did.)

SavingsCatcher is only available for in store Walmart purchases, but they do all the work for you.  (You don't even need to take a photo of your receipt, you simply type in the numbers and date.)
9.)  We used our account at Checkout 51 to receive even more rebate credit.  I have been using this account for the last six months or so, and have cashed it out more than once.  It can even be used on purchases at Aldi's and Save-A-Lot.
10.)  We joined Tyndale Rewards.
Just by signing up and filling out some information we were able to earn 145 points towards free books, bibles, etc…  Book redemptions seem to begin at 50 points.  (We have not chosen our first book yet, but I will be sure to share the details and a review when we do.)   
NOTE:  If you would like to join and earn free books PLEASE use this link and earn 25 points for yourself and 10 points for me.
11.)  We earned Kroger points toward fuel discounts by completing their online survey- found on every receipt.

12.)  My husband used his Starbucks Birthday Reward and received a free coffee item of his choice.
13.)  We used our Target Red Card to take advantage of their holiday rewards and received our choice of a FREE Juicee or Icee at our local Target store.
14.)  We used our points from purchases in November to receive a discount on our gas from Kroger, Wednesday night.
15.)  We began looking in to transferring or ending our phone, cable and internet carriers.
16.)  We were able to grab free Gum and free Cat Food.  For more on using the Kroger card and other programs to their fullest advantage, read our detailed post here.
17.)  We redeemed our Swagbucks for $18 in Amazon Gift Cards.  (We try to redeem our points at the end of each year if we haven't already redeemed them.)
Never heard of Swagbucks?  It is an easy way to earn gift cards by shopping online, answering a few questions, taking surveys, printing coupons, watching videos and more.
Use this link to sign up and check it out to earn an automatic 150 Swagbucks.
NOTE:  Using the above link will also earn me a percentage of every Swagbuck you earn.  It does NOT take away from the total you earn, it simply rewards me for referring you.  
We have used Swagbucks for a few years and I have earned tons of gift cards by just spending 2 minutes a day on the site and printing coupons I would already be printing through another site.
18.)  We input Shutterfly codes to redeem for a free magnet, calendar and various other items.  (I will share these codes with you on our Facebook page as I discover them.)
19.)  We added codes and linked our rewards cards to our Kelloggs Family Rewards account.
We can redeem these points for coupons, gift cards, merchandise and even Shutterfly codes.
20.)  Added codes to our Coke Rewards account.
We can redeem these for free merchandise, coupons, gift cards, Shutterfly merchandise and more.
21.)  Added our monthly codes and checked in for daily credit at My Perks through Purina.
We use these points to earn free bags of cat food, but you can also donate, earn items, coupons and more.
22.)  Organized and inventoried ALL the food in our home.
This is in preparation of the "Just Make Do January Series" we are participating in to eat up the food in our cabinets to reduce waste and disorganization as well as to kickstart our savings goals for 2016.
23.)  We created a menu based only on items found in our cabinets, fridge and freezers.
24.)  We uploaded items onto the Target Cartwheel to save 15% on the bottled water I drink and 35% on the M&M's my daughter needed for a friend's Christmas Gift.
If you shop at Target, do not wait to sign up and use the Target Cartwheel.  You can use it with coupons, sale items AND the Target Redcard.
25.)  We used the Target Redcard to receive 5% off our total purchases at Target.
The Redcard we use is a debit card and comes directly from our checking account.  It may not be a huge discount every visit, but the savings do add up, sometimes it is five percent other times it is 50%.  It also allows free shipping for Target online.
26.)  We used my accumulated Shop Your Way points to purchase a large bottle of Vitamins, Hydrogen Peroxide and Pepsi from Kmart for FREE.
Please comment below with any tips, tricks or rewards programs you would like to share.
Did you enjoy reading "25 Simple Ways We Saved This Week"?
For more amazing and simple ways to save and earn follow us on
Facebook
,
Instagram
,
Pinterest
and sign up to receive weekly emails- where we share upcoming deals,
printables and more.
This post is linked up at a variety of link ups.
For an extensive list of the link ups we enjoy and link to click here.