This is a snowman that almost anyone can complete on a snowy afternoon with their child, or even alone, for fun.
I created it because there is nothing like making a memory and masterpiece with your child on a cold, snowy day.
My original plan was much more elaborate and would require special purchases, so I decided to create something from the everyday things around my house instead of spending money and adventuring out in the cold.
This adorable project just needs scrap paper, dishes and utensils found in most kitchens plus lots of imagination.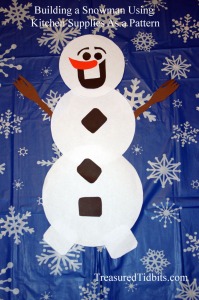 Supplies needed:
Glue
Scissors
Pen or Pencil
Brown, Black and Orange Scrap Paper
3 White sheets of paper  We used everyday copy paper.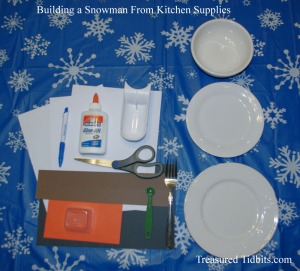 For tracing:
Bowl
Fork
Saucer
Small Plate
1 TSP Round Measuring Spoon (Eyes)
Small Square Container (narrower at bottom)
Square Measuring Cup (For mouth)
Instructions:
1. Begin by tracing bowl, saucer, mini plate, 1 small square and 2 larger squares on white paper.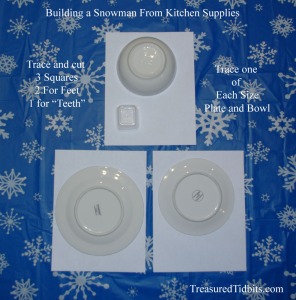 2. Trace two forks onto brown scrap paper for arms.
3. Trace scissor handles onto orange paper and then extend to a point before cutting.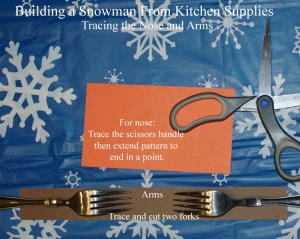 4. Trace 3 Narrow Side Squares onto Black Paper
5. Trace 2 measuring spoon circles onto black paper.
6. Eyebrows can be drawn or cut free hand.
7. Trace oval end of measuring cup for mouth.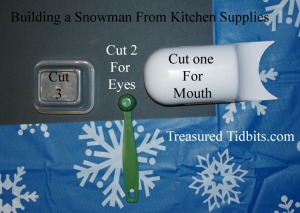 8. Cut out all patterns
9. Assemble body
10. Add arms and feet
11. Let your child rearrange the face and buttons until satisfied.
12. For a more personal touch have your child write his/her name and year on the buttons.
13. Enjoy your memory making masterpiece.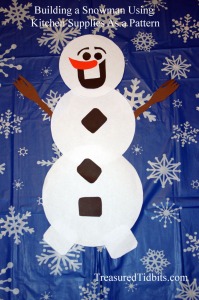 Please feel free to share a photo of your completed project with us below.
We love to hear from you!
Want to see more like this?  Leave us an encouraging word in the comments.  Follow us on Facebook, Pinterest, Instagram or sign up for weekly emails and receive exclusive FREE printables, upcoming deals and bonus links.
---
This post is linked up at a variety of link ups.
For an extensive list of the link ups we enjoy and link to click here.
---
Save
Save