SHARING SUNDAY #2 2015
Hello again!!!
From Central Illinois on a frozen, icy January night.
I can't believe the temperature went up, but the weather went nuts.
We currently have very icy roads and rain still coming down.
This most likely means another wonderful day with my teens and extra kids at my house tomorrow.
YIPEE!!!
Just a note:  If this post is riddled with typos I apologize in advance.
I am typing this without both index fingers.
Is it slow?  Absolutely!
Can it be done?
Yes, very slowly with a lot of backspacing, but I am determined to stay on track even if no one reads this, it is good practice.
Why can I not use my index fingers?
Because I sliced one while trying to use scissors Friday night and have somehow damaged the tip of the other, so that it gives the impression that I rubbed the fingerprint off.  I do not know how it occurred.  I do know that my tolerance for pain is high, and I have burnt myself before and didn't feel it until much too late.  I don't recall injuring it but it has happened somehow.
 This makes typing, dishes, folding laundry, etc… a whole new ballgame, so posts this week may not be as exciting as originally planned (unless I can rope my family into doing some of the hand work).
But enough about my squirrelly hands.
Here's a recap on my week in both my personal and blogging world.
We began our January giveaway.  Click HERE for details and to enter.
Monday began with a family creation of an adorable snowman using tools from the kitchen as patterns for instructions click here.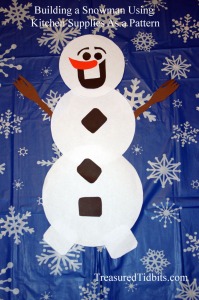 If any of you follow along on Facebook, you are aware that my oldest LOVES Olaf and Frozen and my youngest can't stand it.  She says, "Olaf is on drugs!" 
Anyway, in expectation of our last lost angel my youngest painted her room a beautiful neutral color of ice blue.  Everyone who has entered the room has automatically thought "Frozen" and received the death glare. 
My "threat" to her when she misbehaves now is "I am going to hang snowflakes from your fan, make snowflake tiebacks, buy Frozen bedding and paint a Frozen scene on your wall."  It works like a charm!
  Anyway, she paid no attention to the fact the rest of us made a snowman Monday night (she can be in her own little world sometimes).  So, I snuck into her room and hung it above her bed ('cuz I am mean like that).  
Apparently, SHE didn't look at her bed Monday night (own little world again) as she was having problems and slept on the couch instead.  However, Tuesday night…well…..she found the Snowman Olaf wannabe and he scared the daylights out of her.  
I found him on the fridge the next morning AMAZINGLY in one piece, but she did not hesitate to tell me exactly what things she considered doing to our poor snowman.
BTW, She is a story writer and VERY inventive.  The Home Alone kid has nothing on her. 
Anyway, back to the week on the blog.
Tuesday I shared the progress we made organizing and purging our master closet in just 2 days.  (Don't let me sound like superwoman, I have been planning this for awhile and my hubby did the heavy work.)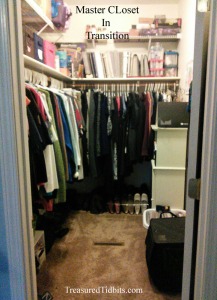 Wednesday found the kids at home again due to the negative wind chill and we put it to use by taking photos and teaching my oldest to post the items we have to resell on one of our local "Buy Sell" pages.  We have 3 totes from the purge and 3 more from items for Ebay and family members I have been waiting to list.  (I don't want to hold onto all of it for 4 months until our yard sale, and we get more cash through here than some consignment shops.  However, it does take more work.)
I decided to share an old project I created years ago that I still find helpful in organizing our jewelry.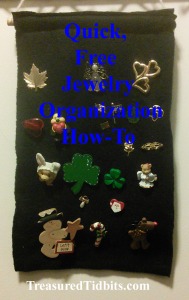 Thursday was another day with the little angels and this time I put my son to work helping move my desk to clean and purge to continue the Master Bedroom Makeover.  For full details click here  and please don't judge my mess or dirt.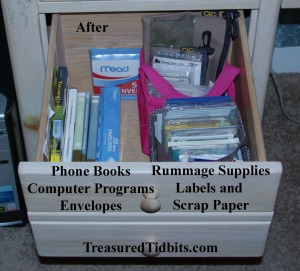 On Friday I did NOT complete the vanilla bottle Barbie dress stand (we are missing a key element) instead, I scrambled to create shared 8 Ways to Reuse Tissue Paper  (Including some yummy NON-EDIBLE candy décor).
.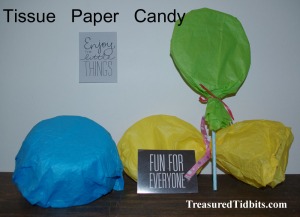 BTW My son's says not to lick it.  It is dry and taste terrible.
Yes, Yes, my 16 year old is a comedian and did lick the lollipop. 
Now, you can see why I am so excited to have them at home.
Due to the fact my daughter had some health issues late Friday I changed my travelling plans for the weekend and stayed home.
I am so glad I did.  My hubby and I tackled the part of the bedroom I was dreading, and I was able to complete some little things I needed to get done (catch up the budget, file some more papers, study some things on-line, etc…).
Today, was equally relaxing and productive.  My wonderful hubby ran all of our errands (including grocery shopping with coupons) so that I wouldn't be exposed to the cold and I could stay home with our daughter.
  We tried a new recipe "Crockpot Fajitas" by Eat At Home and it was delicious.  I think even our picky eater loved it.  For the recipe click here.
I am surprised at how well I am still motivated at keeping up with my goals, and I truly believe blogging about it has helped me stay on track immensely.
  Is my house perfect yet?  No.  Do I feel more confident and prepared than I have in a long time?  Yes.  Have I even completed my bedroom?  No.  But if you understood the disaster it is often in, you would understand the sense of freedom and peace having it organized gives me.
I realize no one may read this, as there are literally millions of blogs available, but I have decided that if blogging about my life in addition to offering crafty ideas keeps my motivated then that is what I am going to continue to do.
I have had a few request to maybe begin a "goal" purging, organizing, cleaning section.  I am just not certain if it should be a daily, weekly or monthly challenge.  Feel free to message me or comment your opinion if you would like to join, and I will see what we can do.
I, personally, love challenges and think a place to share, be held accountable and celebrate together (with no judging) would be great.
It would be a by request to join only group so that only those who are working towards our goals can find encouragment.
I hope the new year is finding all of you pursuing the things you enjoy and clearing out the things you don't.
If you are interested in my other blog The Zippy Zebra you are welcome to check it out.  This week's post included "Why You Should Menu Plan With A Chronic Illness" & "How to Make Grocery Shopping Easier When You Have Physical Limitations" as well as a kitchen giveaway.
THIS WEEK'S PLANS
Tuesday & Thursday- share the master bedroom accomplishments.
Monday- share 2 paper projects for families (both for Valentines Day).
Wednesday- share an organizing project how-to AND a crafty project how-to.
Friday- 20 Ways to upcycle plastic lids.
Want to follow along, make a suggestion, or see how messy my house really is?
To see more posts like this follow us on Facebook, Instagram, Pinterest and sign up to receive weekly emails- where we share upcoming deals, printables and more.
Comments and suggestions are welcome below.
Save
Save