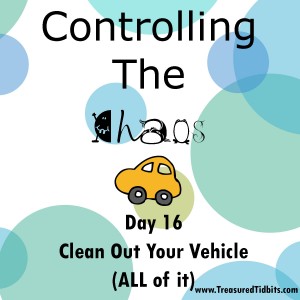 Controlling The Chaos Challenge-Day 16-Clean Out Your Vehicle
I know, I know it is probably quite cold outside BUT it NEEDS done, today.  (You may need some of the information from the papers later this week.)

I personally, thought I would only find a few odds and ends for the trash can in our vehicle glove box and storage areas.
BOY, WAS I WRONG! 
I will share the results of my purge and the new, improved, easy to operate space at the end of this post.
Confession:  I knew this post was coming so I cleaned out our glove boxes (we have two) and center divider one day about three weeks ago as we drove down the road.

   (Hey, I believe in multi-tasking but don't worry hubby was driving).
Why should we clean out our vehicles in "Paper" month?
The same reason we cleaned out our bags, yesterday.
To "Control the Chaos".
If you want to "Control the Chaos" in your life and home, what better place to start than your vehicle?  The entry source for much of your chaos.
What part of my van should I clean out?
ALL of it!!!   The glove box, doors, cubby holes, dividers, under the seats, visors, etc… 
If you have children bring them with you, they can reach all those hard to get items and slide into places you can't.
For tips and tricks for cleaning out your van and deep cleaning it as well.  Click here.
Personally, it is less than 32 degrees right now and our "deep cleaning" will wait until it is a bit warmer BUT I did empty my van completely and hubby vacuumed it.
---
As far as the "Controlling the Chaos" challenge is concerned NOW is good time to add a box, small trash bag for loose garbage and an additional dedicated spot for receipts and papers that you can easily access, remember and remove each day as you exit the car.
TIP:  While you are cleaning out your vehicle check your license plate sticker renewal date and make a note for your budget.  (No excuse, to be caught off guard this year).
IMPORTANT:  Our state (Illinois) is NO longer sending sticker renewal reminder notices.   You must signup online for a reminder email or remember it yourself.
---
Now step back, take a photo, share your success and enjoy your clean fresh vehicle.   You earned it!
NOTE:  Be certain to handle and disperse ALL the items you brought in.   Dragging the chaos from your vehicle to your home is in NO WAY helpful.   Make sure you follow through to ensure you are truly "Controlling Your Chaos".
Here is a peek at our before and after. 
I admit I have not replenished some of our emergency kit supplies but it is on my "to do" list.
 

Glove Box #1
BEFORE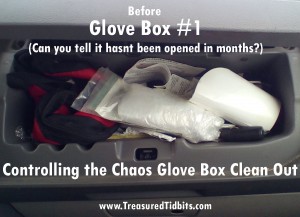 4 Rain ponchoes, lots old maps, a french fry holder full of condiments and our First Aid Kit full of expired meds.
During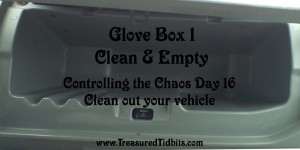 After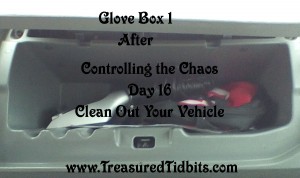 Newly filled First Aid kit, Insurance Cards, Heated Ice Scraper (never used) and 2016 Registration
Glove Box #2
This one was pretty simple.  We transferred all the clean napkins, wet naps, straws and silverware to a baggie and replaced it.   It is sooooo much easier to use now.
The Console
I don't know about you but our console is constantly being used for everything from random pieces of this and that, cups, food and receipts.  It drives me crazy but we still do it.
Please remember -No Judging.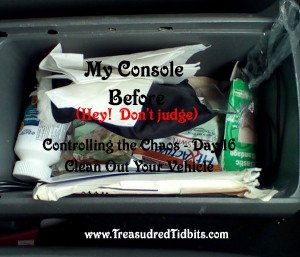 THIS was today and Yes, it was a treasure trove.
The contents (less the napkins and black glove ice scraper you see.)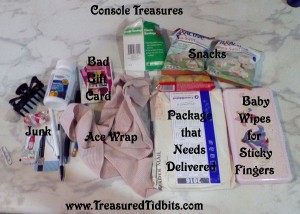 All of these items were removed and will not be returned except the wipes after we refill it.
I am happy to say there were only a few small pieces of trash that I immediately threw away and forgot to take a picture of.
I hope you were as successful in purging your vehicle and didn't discover too many "surprises".
---
Remember today is a new day and you CAN "Control the Chaos".
If you would like to follow the blog please follow us on Facebook, Instagram, and Pinterest or sign up for email notifications.
Want to find support from others like us?
Join our private Facebook Group at Clutter Overcomers.