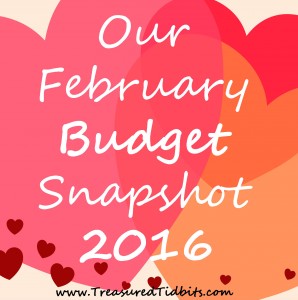 Many if you have asked specifically about our budget and I have made the decision to share it with you.
Please note: I will not be sharing our actual income and total expenses due to conflict and split family issues, but I will share our list of bills and how well we do controlling our gas, food and supplies costs since I can control those.
We are skipping January due to the fact it has already passed and I didn't keep super great records but I do know we spent around on $200 on groceries and supplies for the ENTIRE month while we implemented the "Just Make Do January" challenge.
February Budget Snapshot
We are paid bi-weekly and I have assigned our money accordingly.  Here is our list for each check in February.  The bold items are our standard bills and are required each and every month.
Check #1
House Phone/Internet/Cable (This should be our last payment as we just disconnected it).
Water Bill
Dog Food 
Tina Medical Bill #1 (Pay in full)
Chiropractor
Cat Food/Litter
Tina Radiologists  (Pay 1/5)
Medical Copays & Meds
Allergy Medicine
Kitten Surgery
Christmas Fund
Gift Fund
Tire Rotation
Yearly Chili Supper
NetFlix
Oil Change
Flea Treatment
Kitten's Rabies Shot
Allowance
Home maintenance
State ID
Gas $100 (This is budgeted for two weeks but often does not get used)
Food $300 (This is for the entire month with $100 added to the second check to buy milk, eggs, bread, etc…)
Supplies $200 (This includes furnace filters, light bulbs, toilet paper, etc… for the entire month)
Heart Worm Medicine

Girl Scout Cookies
Giving/Fundraisers/Etc…
Valentine's Day
New Cable
New Internet
Savings
---
Check #2
Mortgage/Home Insurance/Taxes
Electric and Gas
Cell phone
Insurance
Gas
Spending
Food & Supplies $100  (This is for milk, bread, eggs and other perishables)
Allowance
---
I know the list for Check One looks enormous and your eyes do not deceive you, but it is doable on paper and in life.  By creating our budget before we get paid we know exactly how much wiggle room we have and just how careful we need to be.
My personal spread sheet shows not only the expected amounts but our estimated paycheck and the difference available to put in savings after the budget list is taken care of.  (I can adjust or add as needed when bills are received and it will auto adjust the savings contribution for that month.)
This month we are paying for our previous internet and cable as well as our new internet and cable.  The lack of a van payment allows us to make these payments as well as get the kitten's shots without feeling strangled.
To be honest not much will be going into savings in February, but we will be paying more medical bills and covering all of our monthly bills.
Want to know how I keep our grocery and supplies costs down for a family of four with food sensitivities?  Check out these posts.
If you like what you see be sure to click the icons in our cover photo and follow us through Facebook, Twitter, Instagram, Pinterest or Email.