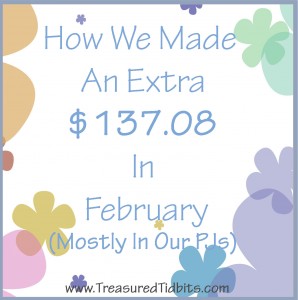 As many of you know my oldest daughter and I are unable to work "regular" 9-5 jobs due to our health issues and the need to be with my youngest, who has even more extreme health issues, so to compensate we have added some "side jobs" we can do from home, a hospital room or even my family's when we are visiting.
Because we began our new direct sales business with Clever Container and my youngest had some major setbacks we spent VERY little time on "side jobs" but we still earned a bit.
We have included the company, links and amount earned with each.  Disclosure: Some of the links below may earn us bonus points or credits.  Using our link will often benefit you as well.  For our full disclosure policy click here.
Vindale Research:  $1.71
My Survey:  170 Pts ($1.57)
Toluna:  7,455 Pts ($2.50+)
VIP Voice:  13,825 Pts (Value varies based on reward choices)
Inbox Dollars:  $8.14
Harris Poll On-line:  345 Pts ($2.76)
Global Test Market:  216 Pts ($10.28)
Pet Perks:  6,370 Pts (We cashed these in for a FREE bag of cat food today)
Coke Rewards:  12 Pts (We use these to earn free Shutterfly items)
Ibotta:  $5.00
Saving Star:  $0.00
Receipt Hog:  846 Pts  $4.23 (For scanning all grocery & supply purchases)
Checkout 51:  $2.75
Kelloggs Family Rewards:  2,866 Pts (We use 850 Pts =$1.00 off coupon OR Various amounts for Free Shutterfly items)
Walmart Savings Catcher:  $0.00
Swagbucks:  404 Pts. $4.04
Tyndale Rewards:  $0.00
Total From Online Surveys, Check-Ins and Rebates:  $45.98
Cash From Consignment or Resale:  $49.50
Income From New Direct Sales Business:  $31.60
(We chose not to close our party until the end of the month resulting in our first big paycheck coming on the first of March).
Target Gift Cards:  $10.00
(To be honest this is just money back on groceries and supplies we would have purchased originally.  I save these cards for "extras" or when I am really penny pinching.  Many bloggers include these gift cards as money saved on the original shopping trip, but to me it isn't money saved because you spent that cash out of pocket and the gift cards can only be used for a later purchase.)
For only a few hours of work online, dropping off clothes/books or on my Kindle Fire I would say we made some fairly good money.
Who couldn't use an extra $100+ a month?
Like to save money? Check out our "Ways We Saved Posts".
---
 This post is linked up at