I promised updates on the Secret Surprise Progress
(henceforth called the "Secret Reveal")
This may not seem exciting to you but it is DEFINITELY exciting for me.
As I said before this project will require a TON of work and time.
It will have NO less than 7 Big Projects (Creating, Repurposing, Etc…) and tons of less exciting projects like purging, sorting, organizing.
THIS is the first BIG project.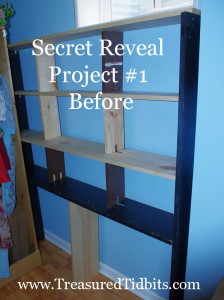 As you know I am a firm believer in recycling and upcycling when possible.
These shelves were being currently being used to hold glassware and large odd shaped items I had gathered when I was creating yard art from glassware.
AND these were created from shelving that had been in my son's room at our previous house.
So THIS project is their 3rd chance at repurposing but don't they look atrocious?
The three shades of paint and bare wood were fine when they were buried in a unseen, seldom used storage area but for my surprise they definitely need a face lift.
To transport them up the stairs and make painting easier they had to be dismantled.  (God Bless the Hubby).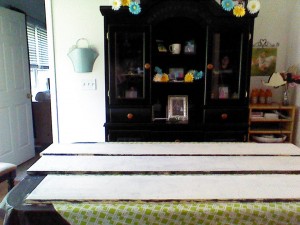 Due to the fact I have four cats who are attracted to paint and I despise leaving messes I was determined to finish priming and painting before we relaxed for the evening.
Of course, we just HAD to paint them on a day that was extremely muggy.
 (Aren't they all lately?)  
Hubby sanded the old paint down outside but I applied the primer and paint in my living/dining area.
  (Happy to say no one got high.)
Yep, I painted in the house, using multiple tables and the hallway and front porch for propping and drying.  There wasn't a "safe" place in the upstairs.
 The above photo is ONLY a tiny section of the mess I made.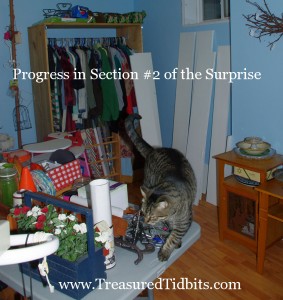 What made this difficult was the fact that we didn't begin until AFTER lunch and I have EDS so I need to take breaks regularly since painting boards requires quite a bit of repetitive motion.   I decided to make an afternoon of it and watched a 2 part Western with my oldest daughter and Criminal Minds on Netflix with my youngest daughter (on breaks between coats, of course).
Since it was quite late when I completed the last board and my hubby went to help a friend with her project we could only prop the boards against the wall in the "New Project Area" for assembly another day.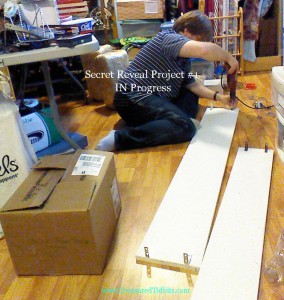 The very next day my wonderful hubby came home from his day job and got right to work on this part of my vision.
AND HERE IT IS!
(In all its glory).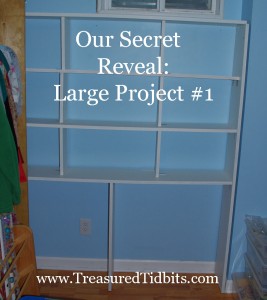 I know it looks VERY plain and boring but I am excited for what it means.
Another HUGE step towards my final goal
AND
It only cost me the price of a paint brush and small can of Kilz.
Check in Monday for another update including a BIG project.
(I hope!)
Save