Planning Our Master Bedroom Makeover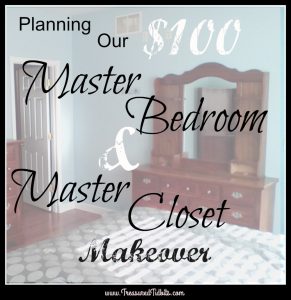 I decided to to start 2015 right by reorganizing my master bedroom and closet.  We took a running, jumping leap and buried ourselves today.  I am not going to lie, we did a "dash and grab" to have clear photos.  "Dash and Grab" means we removed clutter and straightened shelves to make it "presentable" for these pictures.
As I have mentioned before, my bedroom and closet are also used as an office, scrapbook room, storage and project space.  So…it truly needs to be functional, and to be honest…it currently isn't.
What it is……..is a disorganized mess!
---
Now a Peek at The Room & The List Of Changes I Hope to Make
(Photo by Photo)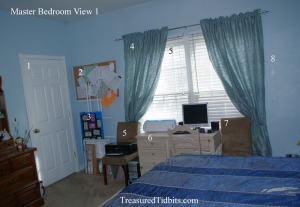 That is the entrance to the dining room, and since the door is usually standing open the stack of junk treasures and bulletin board behind it are invisible to everyone but me and my hubby.  However, I still know it's there.
I'm sure you noticed the BIG white numbers.  What are they for you ask?  I am begging you, please, please, ask.
They are for the master bedroom "makeover" I have planned.
---
Master Bedroom Makeover Plan
1.)  Scrub down of all the trim, walls and door.  This not a "makeover," but a room enhancer.  I can't wait to find a way to remove the scuff marks that have been here since we moved in.
2.)  Recover and organize my bulletin board.  Yes, that is a small crocheted rug hanging there.  Go here to see why.

3.)  Remove and USE the pile of items behind the door.  This includes filling the picture frames, storing the Snowman pictures and using or properly storing the window frame.
4.)  Wash and/or change curtains.  These were purchased this summer for a fantastic price, but the matching bedding did not work out.  They are beautiful and I hate to store them, but the lack of coordinating bedding is driving me nuts.

OOPS!  I made two 5s.
Dark 5.)  Clean the windows & blinds.  This will be the most time consuming task on my list, as I will need to clean each slat individually on both sides.
White 5 & 7)  Eliminate chairs and create a custom made shelf to hold the Cricut, Printer, Modem, Shredder and In-Box File baskets.  This will streamline many of the debris loose items on this wall.  This will be the most expensive part of the makeover.
6.)  Clean & organize my desk inside and out.
8.)  Touch up all paint.  I would love to repaint the entire room, but that task will need to wait for another year.

---
Part 2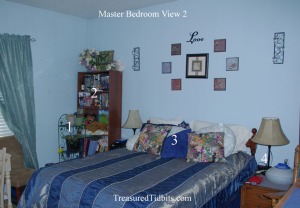 1.)  Return the plant stand to kitchen.  Where it belongs.
2.)  Reorganize, move and clean the book shelves.

3.)  Recover & streamline the bed pillows.  I know they are far from BH&G perfect, but I use them to support the various aches in my back and legs.
4.)  Revamp & reorganize both nightstands.
---
Part 3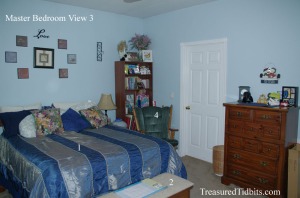 1.)  Change bedspread.

2.)  Recover and protect the wooden chest.
3.)  Reorganize, move & clean this book case.  I need to make room for Grandad's new Memory Bear when it arrives.
4.)  Clean & treat the wood on the glider and all other wood furniture.
5.)  Find a picture or frame for above hubby's chest of drawers.  Yes, those are Star Wars candy jars, and one is wearing a baby frog hat.  We purchased the hat when we were expecting our last baby in August of this year.  We lost the baby but kept the hat because it is the first item my hubby has ever chosen for any of our lil' angels.  We have lost several angels before they were born, but we are keeping the hat in good faith.  Besides, the Storm Trooper looks cute.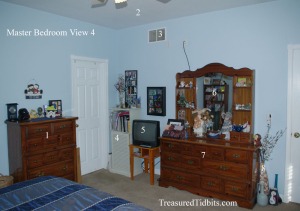 Last wall.  (I promise.)
1.)  Purge hubby's chest of drawers.  We tackled clothes this week but my hubby, well, he is a bit of a "collector" of small parts, and honestly it's more empty than it has ever been but could use a "cleansing".  Now before you get in an "uproar" that I am controlling him and his "stuff".  He will actually do the "organizing",  I will simply "encourage" him to get started.
2.)  Clean the ceiling fan & light fixture.  Hubby will help with this, too.
3.)  Clean the return air and floor vent.
4.)  Remove, recover, and cleanse the white storage cabinet.
5.)  Remove & replace the TV with a flat screen.  To be honest, my hubby would like the flat screen and I feel it would be more aesthetically pleasing, but I'm not ready to hand out the cash.  We only watch TV in our room when I am unable to make it to the sofa or the sofa causes too much pain, so it seems like an unnecessary upgrade at this time.  It definitely does NOT fit in our $100 budget at this time.

6.)  Decorate & organize the top of my dresser.  Right now it's full of the remaining snowmen and extra pics.
7.)  Organize, move, clean and protect my dresser.
8.)  Find a better place to put these vases and ugly brick snowman brick penguin.  I say "ugly snowman" because when my Mother purchased a set of brick characters THIS penguin was part of the set, but all I heard from my Mom and my sister was how they didn't care for the "ugly snowman".  They discussed the various reasons the "Snowman" didn't look right.  I waited a few minutes then burst my gut and their bubble laughing as I pointed out it was a "Penguin".  I love the vases but they have to be in my room because it is carpeted (the cats knock them over and wake us up if they are on the wood floor).  I really should dispose of them, but I like them way too much.
Well, that is the plan for the Master Bedroom.  The master closet will need to come later.
Thanks for stopping by and taking the tour of my "before" master bedroom photos.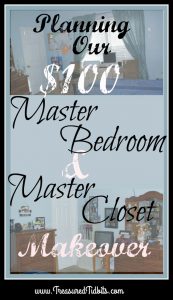 To follow our progress and view the changes we made you can sign up for weekly email updates or follow us on Facebook, Pinterest or Instagram.

Save
Save
Save
Save
Save
Save