Hope everyone is having a great New Year!
I know we are on this frozen snowy day.
I  cannot believe how much we have accomplished in the last week and how free it makes me feel.
I decided Sunday would be a good time to share our "week in review" and my "goals" for the following week.
So, this is our first Sharing Sunday and I can't wait to share what a fantastic week we have had.
I wrapped up the week by taking another "Leap" and actually attending a get-together of adults.  My husband and I attended a Wild Tree "Freezer Cooking Party".
I love to entertain, but I don't actually go out much unless it is for an obligation or my children so this was a fairly large leap.  I was thankful I brought my husband, as my left arm was not functioning today, and he was able to help shop, prep and attend with me.  Of course, he was great company too.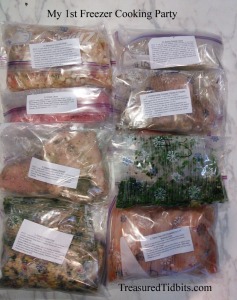 I began the year sharing about "Taking the Leap" and conquering my fears of rejection, of failure and non-perfection when I conquered my long dormant crocheting needle and crocheted this mess  adorable little "rug".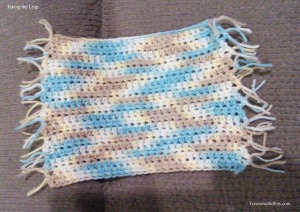 If you have been following the blog, you know that I am also determined to get my house and home in order "One month, One room, One project" at a time.  I jumped the gun a little early and began purging and organizing the Sunday after Christmas.
This began with recovering from the "Stash and Dash" pile in my bedroom.  Where we tossed all the extra decorations, wrapping supplies, new gifts, after Christmas deals and anything else we didn't want to see in the main rooms.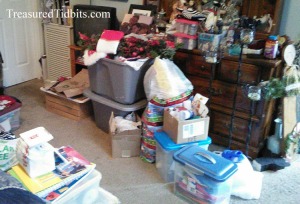 Then my youngest had a growth spurt and we began the clothes purge.  We purged EVERY single piece of clothing (hung & folded) in our house in 2 days.  (I forgot the coat closet and a couple of drawers and completed them on Day 3.)  You can read the fun we had here.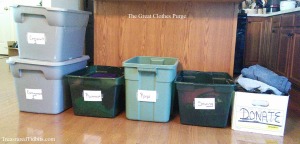 While I was shopping for clothes with my youngest I FINALLY purchased a second shelf for my bedroom closet.  This inspired me to empty my ENTIRE closet and revamp it.
See details here.
It is not completed, but it is organized and I love it.  See a peek below.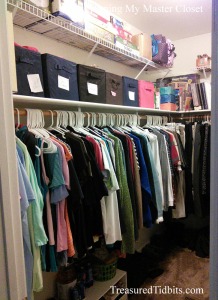 I tackled stacks of paperwork.
I prefer to begin the New Year with all my ducks in a row and I have to admit it isn't finished, but it no longer looks like this.  I only need to organize and store the papers I choose to keep.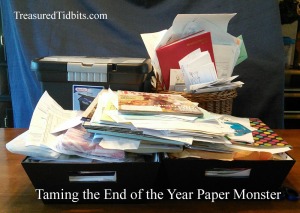 Last, but certainly not least, we purged the packing supply, box monster I have in the basement.  I warn you, the first photo may scare some of you, but I promise it was only there for a few hours while we drug it from the closet and sorted, purged, and stacked it. 
Below is part of the "collection" we hauled into the family room to purge, and the second is the new shelves we purchased and the now "controlled" and labeled collection, including my newly organized (not tossed just anywhere) craft supplies.
All in all, this was a VERY successful week and would be a challenge for someone in great health, so of course I am down and out for a few days, but I still feel great about it.
I also shared the plans for our Master Bedroom Update here and a fly by the seat of my pants "15 Unusual Uses For Socks" post here.
This week's plans:
Finish paperwork storage.
Help my oldest begin her new work at home job.  (After the purge we have 5 totes of clothing to resale and she has 5 or more totes of books).  She is going to open a Facebook page to sell on our local FB Buy & Sell sites.
Share my dreamed of closet changes for the future and now.
Deliver all the donations our purge accumulated and the packaging we are passing on to others.
Complete the sewing of all items we found needing repair.
Complete my youngest's last final and paper so we can begin homeschooling.
Tear down our tree and store for another year.
Our posts this week should include a "Paper Snowman"– Olaf sounds good, the changes I made to my closet already, an easy/no cost organizer for pins and earrings , my planned closet upgrades, and finally, 8 Ways to Upcycle Tissue Paper.
To see more posts like this follow us on Facebook, Instagram, Pinterest and sign up to receive weekly emails- where we share upcoming deals, printables and more.
Thanks for stopping by and I hope you have another great week!
Save