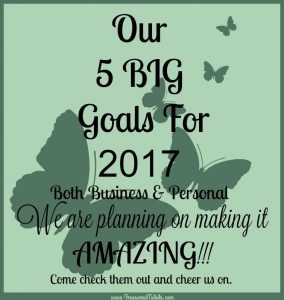 Yep, folks we made it!
It is officially 2017, and I cannot wait to share the amazing things we have planned for 2017!!!
I have heard so many people say they couldn't be happier that 2016 is over, and I can't say I am not one of them.  2016 was full of ups and downs for those of us at Treasured Tidbits, not only financially but physically and emotionally as well.  But… we persevered and we are ready to CRUSH 2017 in both our businesses and personal life.
I have been looking forward to today for months. 
Today is the first day of a New Year, new chances and new business adventures.  Business adventures we have been planning, cultivating and diligently building for months.  I can't wait to share them with you, but before we begin a 2017 overload, I want to share our main goals for 2017.  Notice, I don't call them resolutions because to me resolutions are easily broken, but goals are something to be attained, something to aim for and can be put aside in a time of trouble to be restarted when that trial passes.  Our top five goals for 2017 are: