Amazing Tissue Paper Candy DIY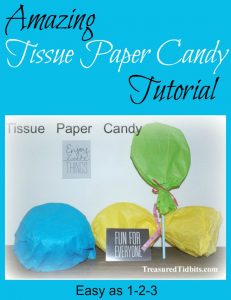 In all honesty this project is so simple it will probably take longer to assemble the supplies than it does to create the fun decor.
These life size candies are perfect for birthday parties, Christmas décor, life size Candy Land game, fair or any candy themed party, and made completely from recycled products.
---
LOLLIPOP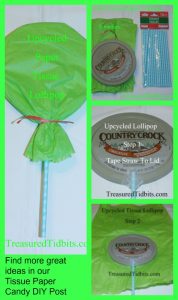 Supplies:
1 Sheet tissue paper any color
Plastic lid  This can be from an ice cream, butter, sherbert, cottage cheese, dip etc… depending on the size you need.
Drinking Straw  We used some decorative straws we found on sale after Christmas 15 in a pkg for $.10.
Tape
Ribbon  We used ribbon leftover from Christmas gift wrapping.
---
Instructions:
Tape straw securely to lid
Fold tissue paper in half
Lay lid on center
Fold tissue paper over and shape around circle
Tape back into place
Turn over and tie ribbon at base of lollipop
---
Hard Candy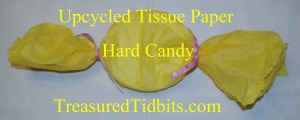 Supplies:
1 Sheet tissue paper

1 Upcycled Plastic Lid Any size
2 Pieces Upcycled Ribbon  We used leftover ribbon from a previous hair bow project.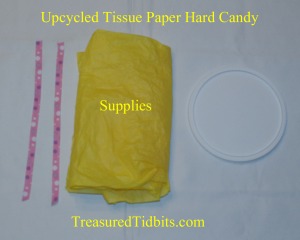 Instructions:
Fold tissue paper in half
Place lid in center and fold paper over, See photo.
Squeeze left and right sides of tissue paper and tie with ribbon
---
GUM DROP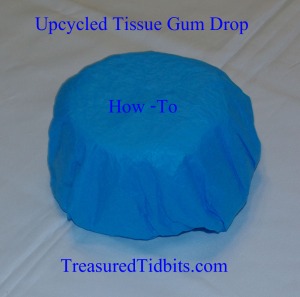 Supplies:
2 Sheets paper  We used one white and one blue.
Tip:  We used two to make the paper thicker and to hide the words on the Cool Whip container we used.
Plastic dome shaped container (Cool whip, dip, sour cream, etc…)
Tape
Tip #2:  You can add some fun colored glitter to give it more of a party effect or used pre-glittered tissue paper.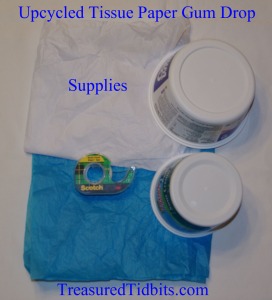 Instructions:
Lay white tissue paper on table
Turn container over in center
Fold and stuff white tissue inside
Repeat with blue tissue
Remember I used the white to cover the words on the container and give the blue a stronger effect.   You can use any color you would like.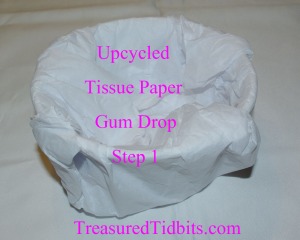 Tip #3:  Go crazy.  Add paint swirls, glitter or use a marker to create more specialized treats.
---
If you enjoy this post and would like to see more simple tissue paper ideas click here.
Thanks for stopping by, I hope this post "sweetened" your day!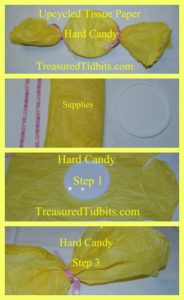 For more ideas and zero/low budget tips follow us on Pinterest, Instagram, Facebook and sign up for emails to receive EXCLUSIVE printables beginning in November 2016 (if not before).
Save
Save
Save
Save
Save
Save