This is it!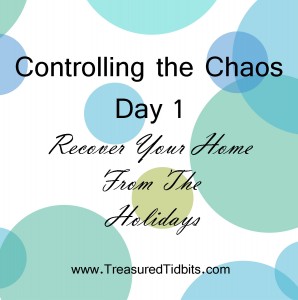 The first day of our journey to Controlling the Chaos.
I imagine many of you are still tired and worn down from last night's celebrating and the long holiday.  (I am still recovering from a biopsy two days ago and a nasty bug for weeks before that).
If you are like me, you may still need to put away some of the holiday decor or clean up after house guests and THAT, my dears, is what we are going to focus on today.
I mean why try to "organize" when the laundry, dishes and stuff are piled up?
It is kind of like trying to put out a fire consuming your kitchen by working in the garage.
Am I right?
Today we are going to start the year off right and declutter, straighten or as we call it "zone" our homes.
What does this mean?
We will walk through our homes and remove any and all trash, dirty dishes, recycling and donation items.   Take them to the appropriate locations.
Then gather all the dirty laundry and take it to the laundry area.
Fold, hang and put away any currently clean laundry.
Start a load of laundry in the washer (it can run while you are "zoning".)
Start a load of dishes in the dishwasher (if you have one) or soak any cooked on dishes.
Tip:  If you have children or roommates have them gather their own items.   If they are not home or you would rather they were not under foot you can grab another basket and assemble their items for them to put away later.  (We have done this for years with little things we find laying around.  It seems to encourage them to remember to put them up since they cant have TV, visit with friends, etc… until it is done but I am not hollering to the basement every five seconds when I find a hair tie, game piece or other "overlooked" accessory).
Walk back through the house beginning in the room of your choice and remove any visible items that do not belong there.  PUT THEM AWAY!   If you have multiple items for the upstairs or basement simply grab a box/basket/bag and fill it up then make one trip to up or down the stairs.
Have a box set aside to gather ALL loose papers in.  If you have a system already in place USE it.  If not use the box.  Throw away or place in shredding or recycling any items you know are trash.  Do not make yourself handle it twice.
Wash up all the dirty dishes and put them away.   If you have too many to fit in the drain rack lay a towel on the counter and spread them out there.  Just don't forget to put them away.   A clean kitchen makes everything seem brighter.
Note:  Please remember we will each need to work at our own pace based on physical abilities, condition of our home and outside the home requirements.   You do what you can to "Control Your Chaos" and we will do what we can to control ours.  No one is here to judge and this calendar and journey is based on the combination of the needs of myself and those who have discussed their specific situations.
I will be sure to share our progress in our "Clutter Overcomers" group.   If you would like to join this closed Facebook group simply click the join button and we will add you in.
For an overview of the month of January click here.
For an overview of the year click here.