Quick, Simple Shamrock How-To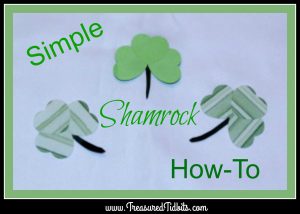 These were the simplest St. Patrick Day items we made this year!!!  And of course they we created from items we had laying around the house because THAT is how we roll at Treasured Tidbits.
---
Time: 5 Minutes or less per Shamrock
Supplies:

Heart Punches or Patterns (any size will work but I have found 1 inch or larger is the easiest to handle, especially for small hands)
Colored Paper or Cardstock
Glue  (We used a simple Elmer's glue stick but recommend photo safe adhesives if you will be using it in a scrapbook.)
Scissors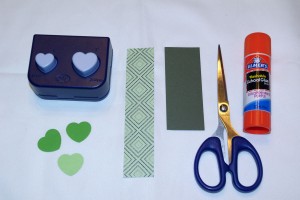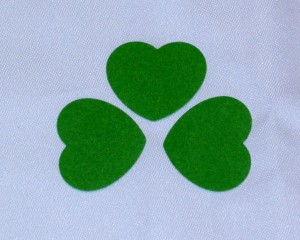 Step 1
Punch out or trace and cut your heart shapes (You can try it with 4 but I preferred using only 3 hearts this time).  I used the larger heart from the double heart punch from Creative Memories.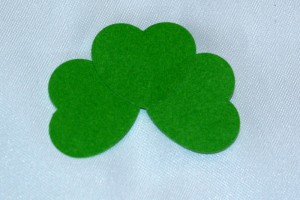 Step 2
Lay your hearts in a Shamrock pattern.  Don't be afraid to try a variety or combinations of designs.  When you find the one you like the most, simply bring the hearts together and apply glue to the top-most heart.  Position the next 2 onto the back of the top-heart (sticky side up).  This will be the back.
 Note: If the hearts are too narrow on the end simply cut a small circle from matching paper and glue your hearts to it with the stem attached underneath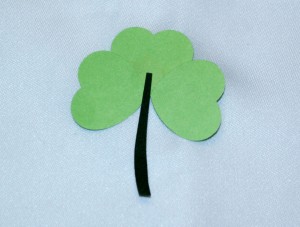 Step 3
Cut and glue a stem from matching or contrasting paper or card stock.  There is no measurement for this.  It should be based on the dimensions of your finished hearts.  I cut mine 2 or 3 times until I was satisfied with the over all look.

This project is a FANTASTIC way to use the scrap paper you have being saving for a "rainy" day and can easily be done with a group including classrooms, girl scouts, family or as fun St.Patrick's Day décor.

---
For more great ideas follow us on Pinterest, Facebook, Instagram and sign up for weekly email updates.
Save
Save
Save
Save
Save
Save
Save
Save
Save
Save
Save
Save
Save
Save