Simple St. Pat's Day Leprechaun Treasure Bowl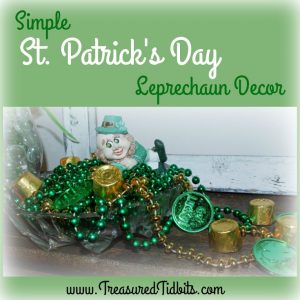 This is a simple, low cost whimsical display we created while playing with our extra supplies last week during a nasty storm.  We thought since it was inexpensive, cute, amazingly easy, and could be created from items laying around your home we would share it for some fun, Irish inspiration.  We love our little Leprechaun and the fact he cost only $.10 at a local garage sale makes it even better.
---
SUPPLIES NEEDED: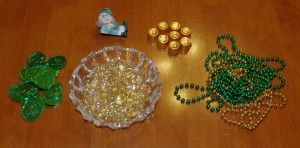 Shallow glass bowl
2

Green

bead necklaces (or more if you choose)
1

Gold

bead necklace (or more if you choose)
Clear glass beads  (These were used as a filler since we didn't have very many of the necklaces.)

Gold

or

green

coins

Rolos

(We had these left from party favors)
An adorable little

Leprechaun

(Ours happens to be resting on his elbow.)
Step 1
If you do not have enough beads you need to begin by layering the bowl with the clear glass beads or another filler so it isn't so deep.  (Yes, I use glass beads for EVERYTHING and I never pay full price.  Michael's often has them for $1.00 or less a bag after the holidays and I grab every size, shape and color I can at garage sales.)
Tip:  If you do not have glass beads available the following items will work well too: Crumpled tissue paper, rice, beans, additional wrapped candy, etc…
Step 2
Layer and droop the necklaces so it appears they are spilling from the bowl.  Add the coins by tucking them in and around the necklaces both in and out of the bowl.  Place the ROLOS strategically around and in the bowl so that they accent the bowl and look like piles of gold on the surface.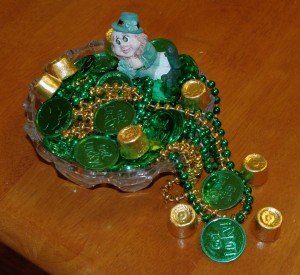 Top it with your own whimsical Leprechaun and you have an inexpensive if not FREE display that can be used as a center piece, desk display, mantel accent or table display.
---
Please feel free to SHARE photos of your creations.
They might even be displayed on our page.
We would love to have them linked up to our Sharing Saturday link ups.
---
For other simple, low/no budget St. Patrick's Day ideas check out the following post.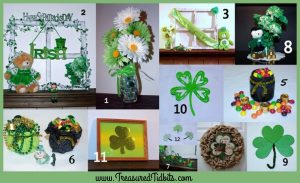 12 Fun & Easy St. Patrick Day Ideas
Or Follow us on Pinterest, Facebook, Instagram for more great ideas.
Save
Save
Save
Save
Save
Save