Posts tagged: Valentine's Day
I created this entire banner for less than $1 with scrap paper and a kit from Michael's.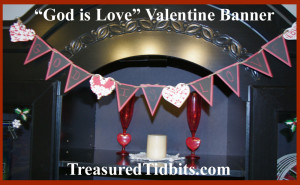 Welcome to another Sharing Sunday at Treasured Tidbits.
We had a fairly busy week with sick kids, homeschooling, my own physical challenges and of course freezing weather so our posts were a little light this week.
We began with a fun, easy Valentine's Day Project my youngest daughter and I made on Monday.
Fun, Easy Hearts With Endless Possibilities
Who doesn't love a versatile, quick, easy paper decorating project you can dress-up or down, make with the kids or do by yourself?
Today I am sharing one version of the idea.